Karuna Goswamy
Across
1. Quiet; placid
3. Every seamstress knows what this is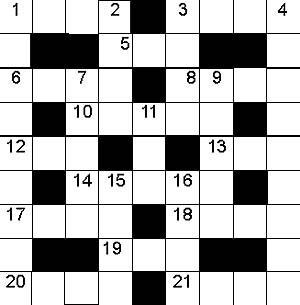 5. "_ is long, and time is fleeting"
6. The language of Mir and Ghalib
8. _ Ludwig, writer of historical biographies
10. Separated; apart
12. Against a proposition, opinion
13. _ jure, means in one's own right
14. What many in the desert live on
17. The pupil is right in the centre of this
18. The General who ordered the Jallianwala firing
19. Dig, scrape, weed, etc, in a garden
20. Traditional body of learning, etc.
21. Passage flanked by aisles in church