Monday, August 26, 2002
Feature
Sexual harassment comes out of closet
Imran Qureshi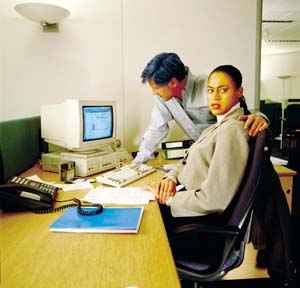 SEXUAL harassment at the workplace in India's IT industry is beginning to come out of the closet after a top Infosys executive was slapped with a lawsuit late last month.Officials of several IT companies have begun to seriously look at the issue, so far swept under the carpet, and appear to be getting over the 'denial syndrome' —- it cannot be happening in their companies, or in India.
The big companies that have policies and processes in place to deal with such issues have begun to 'revalidate' them over the last two weeks since reports of a case being filed in a US court against Infosys' Phaneesh Murthy for alleged sexual harassment hit the headlines.
"People are at least beginning to talk about it. Even those who had not looked at the issue or the problem are beginning to think of putting processes and policies in place to face any such unfortunate situations," a top official of an IT company who did not want to be identified told IANS.
"Every company is equally concerned about the issue because it is not a question of image alone. It will reflect on business sooner rather than later because you are dealing with customers from countries where these issues are taken rather seriously," said a senior official of another company.
The Murthy episode, initially, gave room for rumour mongering and gossip in the industry. But soon top officials, particularly in the human resource departments, began to think of initiating concrete measures as the number of women employees is going up steadily from the current 30 per cent, especially at the lower levels.
But officials are not yet emboldened enough to be quoted by name, with the exception of Vivek Paul, vice-chairman of Wipro Limited, the other jewel in India's IT crown along with Infosys.
Paul went on record last week to say that the company had sacked a couple of employees for sexual harassment.
Barring a few top firms, some medium-size companies and multinationals, industry officials say there is hardly any grievance mechanism —-- a committee headed by a senior woman employee, the business or human resources head and other representatives —-- in the IT sector. The law mandates such a grievance mechanism so a woman employee can complain against a male colleague harassing her.
"Sexual harassment is not as rampant in India as in the West. Even if it is, it may not be reported for fear of social stigma. But there are reported cases, some of which are of a serious nature. Those who have processes in place do initiate action, and tough ones at that," says a woman human resource official.
Officials quote examples of sexual harassment or molestation of woman colleagues. "She (the victim) was actually being pressurised to quit before her other women colleagues got together and wrote to the manager in the USA who ensured that her male boss was reluctantly asked by the company here to leave," said one official.
But there are also false complaints against men and at times genuinely innocuous remarks are wrongly perceived as harassment, said officials, quoting concrete instances in the industry.
If a case emerges, what norms do Indian companies follow?
"If the employee is in India, the norms set out by the Supreme Court on sexual harassment at the workplace are applicable. But if the employee is in the USA, the norms that exist there are applicable," said a senior human resource official.
There are quite a few companies adopting dual preventive and corrective strategies against sexual harassment, like project managers being given inputs to handle situations before they "become an offence" or publicising tools that help identify "dirty" e-mails being sent to harass colleagues.

"We have conducted workshops for women employees of a software company on how to deal with male colleagues in the workplace," says Brunda Amruthraj of Zeidgeist, which provides psychological services to companies.
"Like how women should be assertive, where to draw the line with male colleagues or how to maintain barriers that are being crossed so frequently nowadays. It gives them a perspective on how to perceive soft signs displayed by male colleagues, and also how to respect themselves," adds Amruthraj.