Virtual world can't substitute the actual
Geetanjali Mahajan
A desperate mother consults a virtual physician to cure her sick child. Raghav participates in a Usenet newsgroup to advocate a spiritual organisation he belongs to. Girish has developed relationships with other virtual explorers who share his passion for mountain climbing. Rajesh and Vandana met in a chatroom, became friends and are getting married this winter. Welcome to the age of cyberspace relationships. The Internet has reshaped what we meant by culture and has transformed the way we think, communicate, and interact. Like it or not, cyberspace has become the new frontier in social relationships.



HP is Hi-Tech Pradesh
Rama Sharma
THE Himachal Pradesh State Electricity Board (HPSEB) launched spot-billing system through handheld computers for spot billing and cash collection through laser scanned machines. With this, Himachal becomes the first state in region to introduce the system of modern management tools with the latest state-of-the-art technology. Introduced as a replicable pilot project to be extended to other towns in the state in due course of time, the above system presently covers Shimla city consumers only.

Pune attracts IT students from abroad
V. Radhika
IT is destination Pune these days for Japanese and South Koreans wanting to pick up skills in IT or recruit specialists in the field. Close on the heels of South Korean students arriving in this western Indian city for a brush with high-end IT education, the Japanese are here to scout for software professionals.

Multimedia grows, 'discreetly'
Peeyush Agnihotri
WHAT is common between Kabhie Khushi Kabhi Gham, Lagaan, Devdas, Mohabattein. Obviously, the star-cast was different. The common bond is the animation and digital effect. In fact, animation and digital effects have found a new home — Bollywood. In the next three years, India is projected to receive more than $2 billion worth animation business. So what is the scope and how is this IT-enabled sector growing?

Rabri catches mouse as Bihar looks at IT
Imran Khan
CHIEF Minister Rabri Devi is anxious to learn her way around the keyboard and mouse before she hands over computers to legislators in the Bihar Assembly. A search is now on for a woman instructor to tutor Rabri Devi. "She has shown keen interest to learn the basics of computers and how to operate it," says a source close to the chief minister.

Elvis has left the building.
…he's in cyberspace
Sue Zeidler
ELVIS Presley may have "left the building," but the "King of Rock 'n' Roll" lives on and on —- and on —- in the endless corridors of cyberspace. Using the Google search engine alone to input the popular phrase: "Elvis has left the building" yields over 68,000 results on the Internet. That sentence, originally an announcement at the end of a Presley concert to persuade fans to go home, has come to generally mean that something — anything — is complete.

India in the midst of e-commerce revolution
Gunmala Suri
IN the series of latest developments that marked the progress of technology is the World Wide Web (WWW). On par with the earlier discoveries such as fire, steam engine and the proliferation of telephone lines, the WWW ushers many revolutionary changes relating to how human beings communicate, educate, entertain and the way how they carry on businesses. This marks a new era in the history of human race.

Securing laptops with wireless bond
LAPTOP owners now need not worry about losing their confidential documents as a new system can now automatically prevent unauthorised access of all their data by creating a wireless bond between the owner and the machine that encrypts the data when he is out of range. Researchers at the University of Michigan have developed the new system, which locks down by itself when the master is away, preventing the data from falling into the wrong hands. Moreover, it should protect data even if files have been left open on screen, they added.

IT WIT
by Sandeep Joshi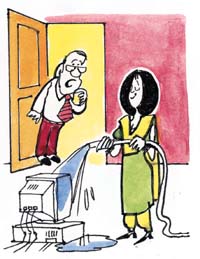 I asked her to refresh the computer. Look at what she has done!
Sexual harassment comes out of closet
Imran Qureshi
SEXUAL harassment at the workplace in India's IT industry is beginning to come out of the closet after a top Infosys executive was slapped with a lawsuit late last month.Officials of several IT companies have begun to seriously look at the issue, so far swept under the carpet, and appear to be getting over the 'denial syndrome' —- it cannot be happening in their companies, or in India.

Kerala portal piques 'Dinosaur' director
HOLLYWOOD director Steven Spielberg's lawyers have served notice on a Website in the southern state of Kerala over its name. The Indian Website design firm has a site called dreamworkzweb.com, similar to the production company DreamWorks set up by Spielberg and producers Jeffrey Katzenberg and David Geffen.

Software change design department
Sukhpreet
LET us go down the memory lane and try to recollect the appearance of a design department of manufacturing unit. We would be reminded of the office being full of massive drawing boards with drafters attached to it. However, visit the same design department today and you will find computers loaded with latest software for product designing.

Britain denies BBC hacking
THE British government dismissed as 'utter drivel' a claim by one of the country's top journalists that officials may have hacked into the computers of the BBC to spy on reports before they were aired.