Monday, August 26, 2002
Feature
Multimedia grows, 'discreetly'
Peeyush Agnihotri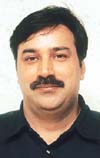 WHAT is common between Kabhie Khushi Kabhi Gham, Lagaan, Devdas, Mohabattein. Obviously, the star-cast was different. The common bond is the animation and digital effect.
In fact, animation and digital effects have found a new home — Bollywood. In the next three years, India is projected to receive more than $2 billion worth animation business. So what is the scope and how is this IT-enabled sector growing?
"Punjab and Chandigarh have a lot of potential and the business is growing at 30 per cent per annum," says Raman Madan, business manager, Discreet, a division of Autodesk, USA, one of the companies into animation and graphics. He observes that grouping the animation industry with the Indian IT industry would be 'miscategorisation' and that it is more appropriate to see computer animation production as a segment of the media and entertainment industry.
Raman rues that though this sector is being projected as 'the' sector currently vis-à-vis outsourcing, yet the work that India is getting currently is on the low side of the value chain. A recent study by Andersen Consulting says that the Indian animation industry currently pegged at $550 million is expected to reach $15 billion by 2008. "For this India would require nearly 3 lakh trained digital content developers by that time that would be a tall order going by the 15,000 trained animators that India produces annually," he says. The future is apparently rosy, but unless skill sets are enhanced India might still lose out to competitors like South Korea, Philippines and China.
The manager says that content creation and designing will never die but may shift focus and that his company has taken the initiative to declare 2002 and 2003 as the Year of Multimedia and has also endeavoured to introduce multimedia learning in the schools. "The CBSE has already approved 3-D courses as a part of vocational course," he says.

Raman agrees that finding the right faculty is still a problem in India. "But I am also noticing a paradigm shift in the choice of courses in various IT institutes. Students now consider the routine courses as hackneyed and would definitely like to get armed in such a way that would make them job-worthy."
Animations and graphics are being touted to be the next big thing with a lot of scope in advertising and high-end games.