Monday, August 26, 2002
Feature
Elvis has left the building.
…he's in cyberspace
Sue Zeidler
ELVIS Presley may have "left the building," but the "King of Rock 'n' Roll" lives on and on —- and on —- in the endless corridors of cyberspace. Using the Google search engine alone to input the popular phrase: "Elvis has left the building" yields over 68,000 results on the Internet.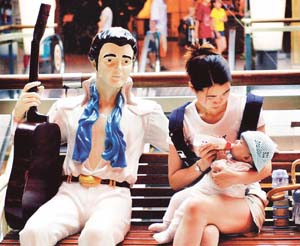 A life-size model of Elvis Presley with his guitar seems to be looking at a Thai woman feeding her child outside a shopping mall in the Thai resort town of Pattaya, Bangkok. — Reuters
That sentence, originally an announcement at the end of a Presley concert to persuade fans to go home, has come to generally mean that something — anything — is complete.
But ironically, a sense of closure is one thing that most die-hard Elvis fans famously lack — as evidenced by the proliferation of so-called Elvis sightings since the hip-swiveling singer died of a drug-induced heart attack in his Graceland mansion at the age of 42.
Thanks to the Internet, these fans can now share their otherworldly experiences on the Website www.deadelvis.com with folks who also claim to have seen "The King" — ordering peanut butter sandwiches in a cafe in Nashville, flipping burgers at a roadside stop in England, and so on. Many Elvis fanatics are visiting any of hundreds of the Websites dedicated to the singer. Among the more popular is the official Elvis Presley Enterprises-run site www.elvis.com, featuring trivia, photographs, music, fan club contacts and information on traveling to Graceland.
Another popular haunt for Elvis devotees is www.lisapresley.com, which provides facts about his only daughter, Lisa Marie, the sole heir of the Graceland estate, who earlier this month married Oscar-winning actor Nicolas Cage.

Additionally, Bertelsmann AG's BMG has launched www.elvisnumberones.com to promote the release of "Elvis 30 No.1 Hits," next month. Via this site, fans can dress their very own virtual Elvis and e-mail him to friends.
An online magazine (www.elvisnews.com) provides a compilation of newsy global tidbits, while an Elvis Presley search engine at www.elvisfind.com helps fans navigate Elvis sites on the Web. Elvis addicts can also visit various online auctions, like www.ebay.com for availability of memorabilia, rare records, Elvis salt and peppershakers, posters and old magazines.