Monday, August 26, 2002
Feature
Rabri catches mouse as Bihar looks at IT
Imran Khan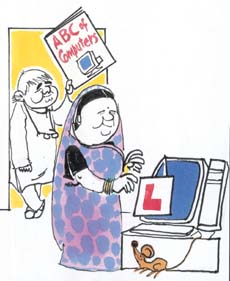 Cartoon by Sandeep Joshi
CHIEF Minister Rabri Devi is anxious to learn her way around the keyboard and mouse before she hands over computers to legislators in the Bihar Assembly. A search is now on for a woman instructor to tutor Rabri Devi.
"She has shown keen interest to learn the basics of computers and how to operate it," says a source close to the chief minister.
The fact that the chief minister, a school dropout, has little knowledge of English, does not pose a problem, says officials. Rabri is familiar with Hindi and software in that language can easily be arranged, he added.
Last month the chief minister had announced that her government would give computers to all 243 legislators in the Assembly.
Officials say Rabri Deviís husband and predecessor Laloo Prasad Yadav is behind her sudden keenness to get familiar with new technology.
Laloo, who earlier dubbed IT a tool of the elite, has of late begun to realise its virtues. Sources say he and his wifeís sudden interest in IT is because both their sons-in-law are software professionals.
Rabri Devi, however, claims the decision to extend IT spread in Bihar has nothing to do with her sons-in-law.
Meanwhile, work has finally begun on Biharís first software technology park. The Bihar State Electronics Development Corporation (BSEDC) is confident the park would start functioning from November. The BSEDC signed an agreement last month with Chennai-based turnkey consultants Mahindra Acres Engineering Ltd. for the planning, designing and detailed engineering of the first phase of the STP.

Two other companies, Hyderabad-based Creat Tryst Infrasol Pvt. Ltd. and Mumbai-based Godrej and Boyce Ltd., will participate in the project.
Besides the STP project, the Bihar government has taken a few other steps to promote IT. Aided by a Delhi-based NGO, the Bihar government also provided computer training to the inmates of Beur jail here.