Monday, August 26, 2002
Web Jingle
The immortal King of Rock íní Roll
Amit Puri
ELVIS Presley, was one of the greatest performer the world had ever witnessed. Due to his remarkable success he is called the "King of the Rock Ďní Roll." Elvis Aron Presley became obsessed with music in his pre-teen years after winning his first talent contest at 8. Over one billion copies of his albums have been sold worldwide. His achievements are impressive, his fans are around the globe and there are around 625 active Elvis fan clubs worldwide.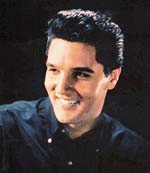 Elvis Aron Presley
Born: January 8, 1935
Birth Place: Tupelo, Mississippi
Death anniversary: August 16, 1977
Top Hits: Heartbreak hotel, I was the one, I want you I need you I love you, Donít be cruel, Love me tender, Good luck charm, Canít help falling in love, Burning love.
Between 1956 and 1977, Elvis received three Grammy Awards, three RIAA (Recording Industry Association of America) Platinum Record Awards, thirty-five RIAA Gold Record Awards, and had a total of one hundred and six Top 40 hits. He also appeared in 33 films. Elvis had charted 149 songs on Billboardís Hot 100, which is much more than any other artist. He had the greatest number of consecutive number one hits for 10 times and has more Gold records that any other artist (number of Elvis Gold records is 81. Beatles have 41).
As an honour to the artist in 1992, the US Postal Service announced that Elvisí image would be used for a postage stamp. Elvis photo (1950ís sizzling young rock star) appeared on the stamp, which was released on January 8, 1993.
Elvis started his carrier in 1953; he went to the Memphis Recording Service on his lunch hour to record two songs as a belated birthday present for his mother. Presley recorded two songs, "My Happiness" and "Thatís When Your Heartaches Begin." By 1956, Elvis was an international sensation. His trophy room at Graceland is filled with gold and platinum records and awards of all kinds from around the world. On the 16th of this month, it was his 25th death anniversary.
This is the official site of Elvis Presley. This site contains all information related to Elvis. All about Elvis, Graceland tours, Events and wedding, Games and Download, Charities and Shop Elvis are the main sections of the site. The site provides a link where we can apply online for "Elvis Presley Visa credit card". The new designed card has a photo of the star. E-card is the section where we can get variety of e-cards, which have the photo of Elvis. There are other stuff for free download like wallpapers, screensavers and Trivia games. It is a good site but there are no songs to download.
As the name tells, this site is a big resource of MP3 songs. The main sections of the site are MP3 Downloads, Full Albums, MP3 Archive A-Z, A-Z Lyrics, New MP3 Hits, Dance Trance MP3s, Top 100 Singles, 255 Full Albums. We can search the songs by its singerís name. The site provides a search engine, located at the topside of the index page. The search can be done by song name or the artist name. The result page of Elvis gives 30 MP3 songs sung by the artist for free download.

This site provides MP3, Midiís and Lyrics of the songs. Music search helps find choices. This site provides us around 11 Elvis songs. Some of the links do not work but this site provides good quality MP3 songs.