Monday, August 26, 2002
Feature
Securing laptops with wireless bond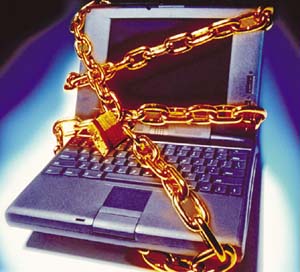 LAPTOP owners now need not worry about losing their confidential documents as a new system can now automatically prevent unauthorised access of all their data by creating a wireless bond between the owner and the machine that encrypts the data when he is out of range.
Researchers at the University of Michigan have developed the new system, which locks down by itself when the master is away, preventing the data from falling into the wrong hands. Moreover, it should protect data even if files have been left open on screen, they added.
A radio transceiver installed inside the laptopís casing is programmed to identify its owner by means of a small transmitter worn like a wristwatch. This lets the laptop know how far away its master is. Whenever separated by a set distance, automatic encryption of data is triggered.
"And as soon as the user comes back within radio range, the computer will begin unlocking the computer so that it is ready to resume work when the user sits down," says researcher Brian Noble.
Noble and co-creator Mark Corner believe that the idea could be used to secure confidential business information and even keep military secrets safe.

Andrew Derozairo, chief executive of UK-based laptop security firm Carraig, says this could prove useful for some persons. He told New Scientist: ĎOne of the most interesting possible applications is on the trading floor of a stock exchange where people are incredible protective of whatís on their screens.í
Derazairo says the system would work well if combined with a screensaver that automatically guards the laptopís screen when its user is away. But he adds that even a six second time lag might put off some potential users if the system is made commercially available. (ANI)