Monday, August 26, 2002
Feature
Pune attracts IT students from abroad
V. Radhika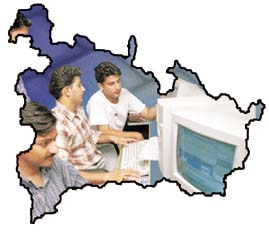 IT is destination Pune these days for Japanese and South Koreans wanting to pick up skills in IT or recruit specialists in the field. Close on the heels of South Korean students arriving in this western Indian city for a brush with high-end IT education, the Japanese are here to scout for software professionals.
To make their Indian sojourn comfortable, they brought along a cook, an interpreter-cum-coordinator and a professor of IT from back home. Their arrival was preceded by numerous visits by South Korean university and government representatives to select IT institutes here.
"One of India's major strengths is that it offers excellent qualities of IT education in English," Ohtak Kwon, a South Korean IT professor currently on a visit here says. He says many persons in his country were impressed with India's success in software development. Besides, advanced IT education in India costs a fraction of that offered in the USA and Europe.
And a Japanese company is looking to recruit at least 100 software professionals from Pune to work at levels ranging from programmer to project manager in telecom and engineering companies from this fiscal year.
i-POC Corporation, an Indian IT engineer Placement and Offshore Development Company, promoted by C Cube, related to NTT and two other Japanese companies —- is offering a six-month training course for IT professionals. It will recruit and train them in language skills and in simulated Japanese work situations..
Kenji Ohashi, CEO, i-POC, says they chose to locate the programme in Pune as it is the only Indian city with a large Japanese language training facility already available. He admitted that the professionals they recruit and place in Japanese companies would have to sign bonds. These will range from one to two years, depending on the skills of the employee. "The higher the skills, the longer the bond," he adds.
A television crew from the Japanese publishing group Nikke, sponsored jointly by Nikke and Microsoft Japan, is accompanying the i-POC team.

The crew will spend 12 days seeking answers to what India has done right in the training of software professionals, which has led it becoming an IT powerhouse. It will visit schools and Pune University to understand the teaching methods for subjects related to the field. It will also film the i-POC model of developing talent.