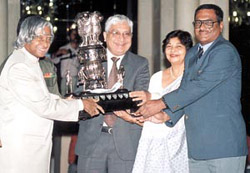 Delhi University Vice-Chancellor Dr Deepak Nayyar receiving the Maulana Abul Kalam Azad Trophy for the best sports university from the President, Dr APJ Abdul Kalam, at an investiture ceremony at the Ashoka Hall of Rashtrapati Bhavan in Delhi. Dean of Colleges Dr Kiran Datar and Director of Physical Education Prof Jitender Singh Naruka, are also seen.
PNB crush AIIMS in DSA League
New Delhi, August 29
Punjab National Bank (PNB) crushed All-India Institute of Medical Sciences (AIIMS) 6-0 in an A Division match of the Delhi Soccer Association (DSA) Institutional Football League Championship at the Ambedkar Stadium in the Capital.
BSF chief hails mountaineers' feat
New Delhi, August 29
The Border Security Force (BSF) mountaineering team, which successfully climbed Mount Kamet (height 25,447 feet), the third highest peak in India, located 50 km east of Joshimath in Garhwal Himalayas, at 11.30 am on Thursday, was hailed by Director-General Ajay Raj Sharma.
Ravindera and Ramjas School move up
New Delhi, August 29
A dashing knock of 53 runs by man of the match Hemant Singh and deadly bowling of 4 for 20 by Vipul Gupta helped Ravindera Public School beat St Mark's School, Meera Bagh, by four wickets in the last league match of the Ramjas Under-17 Inter-School Cricket Tournament at the Ramjas Sports Complex ground.
Gyan Bharti down Shanti Complex
New Delhi, August 29
A fine knock of 47 by Sevi Kukreja and 44 well-hit runs by Manav Sharma helped Gyan Bharti South Delhi Academy defeat Shanti Sports Complex by one wicket of the last ball in a limited-over cricket match at the Gyan Bharti School ground in Saket.
Rameshwar cricket tourney from September 10
New Delhi, August 29
The second Shaheed Smriti Under-19 Cricket Tournament for the Rameshwar Trophy will be organised by the North Delhi Cricketers' Association at different centres of Delhi from September 10, 2002.