Baba's arrest embarrasses clergy
Amritsar, August 30
Baba Dhanwant Singh, Chairman of the Noor Vishaw Ruhani Trust, was arrested in a "swift and dramatic action," a day after a meeting of the Khalsa Panchayat with the Chief Minister in Chandigarh in connection with the activities of "godman" Ashutosh.
Row over 20 PUTA members' removal
Talwandi Sabo, August 30
The cancellation of membership of 20 lecturers of local Guru Kashi College and Punjabi University College of Education, Bathinda, from the Punjabi University Teachers Association by the Registrar of the Punjabi University, Patiala, Mr Karamjit Singh Sidhu, without any notice allegedly to favour a particular group in the elections to its Executive Committee to be held on September 6 has triggered a controversy.
Longowal's relatives deny joining Congress
Sangrur, August 30
The 17th death anniversary of Sant Harchand Singh Longowal on August 20 has sparked off a new controversy in view of the recent utterances in a section of the media by Longowal's sister Sham Kaur and nephew Bhai Roop Singh.
Badal's confidant Bhambra booked
Chandigarh, August 30
The Vigilance Bureau, Punjab, has booked Mr Hardeep Singh Bhambra, who was Officer on Special Duty to former Chief Minister Parkash Singh Badal, for possessing assets disproportionate to his known sources of income.


New dyke for plant ready
Ropar, August 30
Built at a cost of Rs 5 crore on 200 acres, a new ash dyke will be available to the Ropar Thermal Plant in a week for depositing fly ash of phase three (comprising unit numbers 5 and 6) of the plant. The new ash dyke will help increase the life of phase two dyke, where the fly ash is being deposited at present.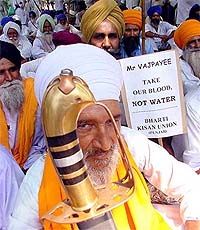 Bhartiya Kissan Union (Punjab) activists sit on a dharna to demand the Sutlej-Yamuna link project be dropped at Jantar Mantar in the New Delhi on Friday. — Tribune photo Mukesh Aggarwal

Settle disputes out of court: CJI
Hoshiarpur, August 30
"Ninety per cent of the disputes can be settled through conciliation as they hardly involve any law point," says Mr Justice Bhupinder Nath Kirpal, Chief Justice of India, while stressing the need for strengthening the institution of lok adalats for "expediting trials of cases pertaining to public utilities".
IG holds probe into attack on Jindal
Patiala, August 30
The Inspector-General of Police here, Mr Anil Kaushik, today visited Malerkotla to inquire into the murderous attack on the then officiating President of the municipal committee, Mr Krishan Kumar Jindal, on August 26 and made an on-the-spot investigation into the incident.
House tax scam in Bathinda MC
Bathinda, August 30
A house-tax scam, running into crores, has come to light in the local municipal council, already mired in controversy pertaining to awarding of "benami" contracts for sanitation and development works to a select few.
MC meeting put off as officials trade charges
Fazilka, August 30
Due to the reported row between Mr Mohinder Partap Dhingra, president, and Mr Diwan Chand Verma, executive officer, of the BJP-ruled Municipal council, Fazilka, the general house meeting summoned yesterday was postponed.
'Rich SCs must shun quota seats'
Bathinda, August 30
Mr Udit Raj, Chairman of the All-India Confederation of SC/ST Organisations, while alleging that the Supreme Court was not protecting the rights of weaker sections properly, said Class-I officers belonging to reserved categories should restrain their children from getting the benefit of reservation.
Tributes paid to Beant Singh
Patiala, August 30
The District Congress Committee, under the presidentship of Mr Ved Prakash Gupta, today organised a function on the occasion of the 7th death anniversary of late Chief Minister Beant Singh. It called upon the Union Government to bestow the Bharat Ratna upon him posthumously and declare August 31 a national holiday.
Surrendered routes to be privatised
Patiala, August 30
The Punjab Government has decided to reissue routes surrendered by both Punjab Roadways and the Pepsu Road Transport Corporation to private parties. Stating this here after attending a function organised to commemorate the death anniversary of former Chief Minister Beant Singh here, state Transport Minister Tej Prakash Singh said the PRTC had surrendered routes covering nearly 14,000 km.
'PSEB nearing bankruptcy'
Patiala, August 30
The Punjab State Electricity Board Engineers Association yesterday said the board was heading towards a financial crunch. It warned the state Chief Minister, Capt Amarinder Singh, that vested interests were trying to derail the proposed tariff hike in a bid to dismantle the board.
Police finds irregularities in orphanage record
Patiala, August 30
The police, which conducted a surprise check on the record of the Rajindra Dewa Orphanage here today, has claimed to have found irregularities in giving a child to a Canada-based family by the orphanage around 18 years back.
Residents protest 'police inaction'
Jalandhar, August 30
Residents of Baldev Nagar today sat on dharna in front of police division number 8 for the alleged failure of the district police to initiate action against the anti-social activities of a Congress councillor. Traffic on the Jalandhar-Amritsar road remained disrupted for about half an hour.
Move to upgrade ponds for pisciculture
Ropar, August 30
The Punjab Government under a scheme will develop ponds in villages and supply these with clean water, to use these for fish-farming. Mrs Seema Jain, Deputy Commissioner, stated here today that with the implementation of this scheme, villages would become pollution-free and economic health of panchayats improve following sale of fish.
Murder case solved
Amritsar, August 30
The police today claimed to have solved the mystery shrouding the death of Daljit Singh of Patiala who was found dead in a hotel recently. Dr S. K. Kalia, SP (City), said Dajit Singh had illicit relations with his maternal aunt, Simran Kaur of Bhlauth village.
Inter-state gang of robbers busted
Gurdaspur, August 30
The police has busted an inter-state gang of robbers with the arrest of two persons. The gang reportedly used to rob passengers in trains and deluxe buses. They used to give them sleeping pills mixed in cold drinks, tea or coffee after taking them into confidence.
Undertrial escapes from police custody
Faridkot, August 30
An undertrial, Jaswinder Singh, escaped from police custody while they were at a local dhaba late on August 28. A resident of Ghumiara village in Faridkot district, Jaswinder, was being taken to the Faridkot district jail from the Ludhiana judicial courts by havildar Jagga Singh and constable Balbir Singh.
Another jawan commits suicide
Mamdot, August 30
Frustrated over continuous duty hours in the scorching heat wave in the western sector along the border, a jawan of the BSF shot himself yesterday. A case has been registered under Section 174, IPC.
Case against Principal, Bursar
Patiala, august 30
The Nabha Kotwali police yesterday registered a criminal case against the Principal and the Bursar of Punjab Public School at Nabha, near here, on charges of attacking a person staying in the old palace of the former Maharaja of Nabha and evicting him forcibly from the premises.


'Fund crunch may hit distance education'
Jalandhar, August 30
Limited financial resources may hamper development of desired quality study material and programmes under the distance education system in the country. Besides, the system is facing a challenge with regard to the development of job oriented programmes and infrastructure at various institutions throughout the country.
PCCTU rally on September 5
Ludhiana, August 30
The central executive committee of the Punjab and Chandigarh College Teachers Union at a meeting today at GTBN College, Dakha, condemned the policies of the Punjab Government which were termed as detrimental to the cause of higher education.