Blind date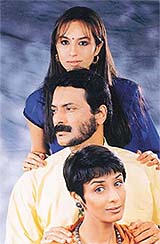 Parchhaiyan: Ghosts of the past

Sahara TV seems to be getting increasingly serious about the quality of its programming after Sab TV hit the jackpot with Ramkhilaavan C.M. &Family.
In fact, with Star Plus, Sony and Zee occupying the first, second and third places respectively, there seems to be a race on for the fourth spot between Sahara and Sab TV. Both are being pushed into slick programming.
Parchhaiyan, Monday to Thursday at 9 p.m. on Sahara, is an example of this. A classy serial, it has an excellent star cast and a gripping script.
Abhay (Milind Gunaji), a successful young man, has a chance meeting with the gusty Archana (Achint Kaur), which leads to instant attraction and a bond of friendship. He offers her a job and she accepts the offer. She is a workaholic and makes the company grow dramatically. He admires her but Archana secretly begins to love him and slowly takes over his life.
But Abhay discovers, to his horror, that Archana has a shadowy past, a past that has made her into a destructive monster. Can he get out of her clutches? Find out in this racy serial.
Back to school

School School: Probing adolescent minds

It's school time all over again. And for the young at heart, specially girls, this is familiar territory. Teenaged life with all its wonders and heartbreaks.
School School, every Saturday at 11.30 a.m. on DD-I, is all about the desires, expectations and emotions of young girl — their attitudes towards parents, teachers and the world
The serial looks into the influence of society and the western culture on shaping the lives of these students. It portrays the simple joys of girls soon after they attain adolescence, their fancies and their attraction towards boys.
Though the serial revolves around adolescent girls, it is by no means childish. Thought seems to have gone into its research and performances of the students is both spontaneous and natural. Worth watching.
New makeover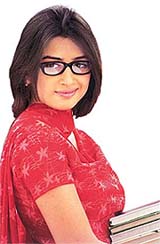 Kutumb: Twist in the tale
Sometime ago, when viewer interest in Kyunki Saas Bhi Kabhi Bahu Thi began diminishing, Balaji Telefilms pushed the story up by a generation, adding a slew of new characters and giving the serial a fresh look. The experiment clicked admirably.
Now Kutumb, Monday to Thursday at 9.30 p.m. on Sony Entertainment Television, too has been given a similar makeover. A certain staleness had crept into the show. So there's been a format innovation now.
Though Gauri and Pratham are still being played by Gauri Pradhan and Hiten Tejwani, a twist has been added to the tale since mid-August. Another family. Another man and woman who fall in love. Another story where you cannot predict the outcome.
Says Ekta Kapoor, "We wanted to do something more. This new format seemed an interesting innovation to take the show forward. Now all you have to do is to sit back and watch the all-new Kutumb."
One just hopes the new storyline would add bubble to the soap.
Kalyug ka devta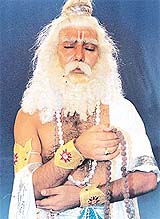 Scene from Khatu Shyamji: Niche following

There's a change in the programming policy at Aastha. The channel that had been focusing mainly on religious discourses is now falling for the charms of serials.
Khatu Shyamji, telecast every Saturday on Aastha, is the fascinating story of a little known warrior, Barbareek who is worshipped mainly by the business community.
Barbareek was the son of Bheema and Nag Kanya and a great devotee of Lord Shiva, who gave him the three infallible arrows and a bow which would make him victorious in the three worlds.
When the Mahabharata war broke out, Barbareek decided to help the side which was losing. Hearing this, Lord Krishna got worried as he knew that the Kauravas would ultimately lose. But if Barbareek joined them, they would certainly win.
Disguised as a brahmin, Lord Krishna intercepted him in the way and asked for his head. Barbareek obliged. So relieved was Lord Krishna that before burying his head in the town of Khatu, he blessed Barbareek, saying that during kalayug he would be worshipped by the name of Shyamji.
Watch the little known and fascinating story of Barbareek who still has a very devoted religious following of Indians spread across the world.
Reliving a nightmare
The tension is palpable as they speak, the emotions for many still very raw and most people in the world know exactly where they were on that day — September 11, 2001.
As the anniversary of the terrorist attacks on the USA approaches, CNN offers a vivid account of that day and its aftermath in America Remembers. Part-I is being aired at 4.30 p.m. on September 7 and Part-2 at 7.30 p.m. on September 8.
The haunting CNN perspectives documentary, airing in two parts, recounts the attacks, using the personal recollections of the CNN production staff involved in covering the story, including anchors, correspondents, executives, producers and camera people.
The first part gives the reaction of Americans as they witnessed the attacks. It also gives viewers a look at President George Bush's flight to ensure his safety. In Part-II, the documentary delves into the aftermath of the attacks.
Says Rena Golden, CNN international general manager, "It hurls us back into the shock and horror through personal accounts of those without whom the world would not have been able to witness the events that changed the lives of thousands.
— Mukesh Khosla