OVER the years there has been a deluge of reports and recommendations, research papers, discussions, debates and brainstorming sessions of men who felt concerned over how to salvage Punjab agriculture, retrieve farmers and farm labour from ruination and give the state's economy, anchored as it is in the soil, strong roots.
To this list of concerns is now added another document, "Precision Crop Diversification in Punjab," that's worth consideration for its seeming applicability. Its author is Dr M S Bajwa, a retired Director of Research at Punjab Agricultural University, Ludhiana.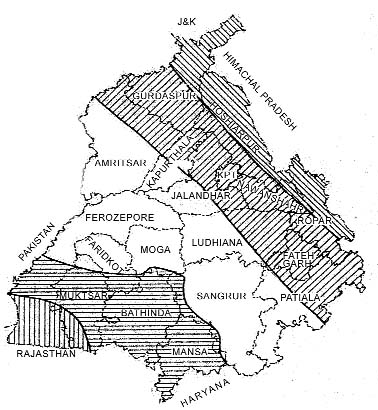 The document's 73-pages are filled with a wide range of statistics—world hunger to malnutrition and under-feeding in Punjab villages, soil type and texture to precipitation data, flood-prone zones to variables in agro-climatic zones and is also studded with maps, graphs and tables.
All of these focus on one theme that uniformly threads the document: it's time to plan 'precision' diversification based on site, zone and region-specific selection of crops and cropping patterns, efficient management, natural resources and inputs to produce cost-effective and eco-friendly consumer-acceptable quality products.
To ensure the suggested paradigm shift, equal focus is on shift in attitudes and mind-set of the farmers and farm scientists, economists and policy-planners. The need is for 'demand-driven' quality produce and products, enlarging the agro-industrial base and creating on-farm and non-farm employment opportunities and improving rural economy.
The document, perhaps, holds the key to any future policy programmes because Punjab agriculture is headed straight for more trouble and crises, once the quantitative restrictions under the World Trade Organisation (WTO) regime are removed. Punjab's agricultural and agriculture-based economic problems (often resulting in social tensions, including suicides and increasing debt) will further aggravate if action is not taken at once. Already 16 years have been lost since the talk of diversification started.
Dr Bajwa's hypothesis of 'precision' diversification shows a road map to sustainable, profitable agriculture. It takes cognisance of the past and present to predict the needs of future food security for the millions of poor and also profit security of farmers, vis-à-vis the country's population growth and the changing world economic order. He talks of putting into practice 'knowledge' and 'experience'.
Without getting bogged down by known agricultural statistics pertaining to area, yield, production, consumption of farm inputs, stored and rotting grains that have converted Punjab into a 'graveyard' of tiny kernels of rice and wheat, lets have a look at the suggestions based on the profile of Punjab:
Agro-ecological zones: Punjab has been divided into five zones: 1) Dry, sub-humid/moist sub-humid; 2) Dry, sub-humid, north-plain, alluvial soil; 3) Semi-arid, north-plain, alluvial soil; 4) Arid, western-plain, desert soil; and 5) Arid, western-plain, desert-type soil. (In the last the two difference is of rainfall and temperature). The 'precision' diversification map has been drawn keeping in view the characteristics of each of these zones.
Cutting area under rice: Taking into account wide variations in agro-ecological and soil and groundwater characteristics, rice cannot be replaced by other crops in areas having heavy-clayey soil, salt-affected 'kallar' soil (even after reclamation), water-logged soil, flood-prone areas and basmati-growing areas.
However, rice can and should be shifted at the earliest from sandy and loamy sand soils, areas receiving saline (brackish) irrigation water and areas recently brought under cotton in southwest (Malwa) districts. Essentially, go for precise area-specific shift, and not blind diversification.
Reducing wheat area: This is one crop that will continue to occupy major area as it can be sown in all types of soil, requires less water and can be irrigated with even marginal water supply and requires almost no insecticides. But the need is to shift from the existing 'bread' varieties to 'durum' wheat varieties, which can grow in parts of Gurdaspur, Amritsar, Ludhiana, Fatehgarh Sahib, Patiala and Sangrur because they are suited to well-drained, medium (loamy sand to loam) textured, medium to high organic matter, medium to high fertility, non-saline/alkali soil, with good quality irrigation. But rain-fed conditions are not suitable.
Introducing variety: The last four decades have seen diversity in natural vegetation and crops get depleted. Any crop variety developed from a single gene and cultivated repeatedly over a period time can one day be a major concern in case of breakout (epidemic) of a disease or pest attack. Variety in the gene bank is essential to maintain diversity. For this Punjab needs to enact a biodiversity Act to effectively protect and conserve biodiversity not only of natural but also cultivated crops.
Commodity specialisation: For any success in diversification, general or precision, establishing different crop/commodity-specific zones is imperative. Such zones must have export promotion parks as well. Since crop diversification and quantitative restrictions (under WTO) are closely related, a proactive approach is needed to prepare Punjab for the competitive world market to find a niche for its produce/products.
Corporate farming: It is already late in the day to have induced corporate sector into contract farming for quality- and demand-driven agriculture and establishing a strong, viable small industries sector with agriculture as its base in terms of processing as also machinery and equipment manufacturing. For such a success, farmers' associations and their linkages with the corporate sector as well as changes in revenue/land laws in favour of owners are required, so is development of infrastructure to take care of the produce and products.
Diversification as business: There is a need for a practical socio-economic analysis of the 'production-processing-marketing-consumption inter-relationship' to reorient and prioritise demand and quality-driven farming. Social scientists have as important a role to play as scientists and economists to educate and train farmers for new unavoidable changes in agriculture.
Productivity-cum-quality: For global competition quality is of essence. Certain countries conduct DNA tests to determine quality before allowing import of foodgrains and other products. A careful selection of crops and varieties is the key to enter the world markets, as only quality produce and products will have acceptability abroad.
For example, Punjab needs to introduce high-yield, high-quality Karnal bunt-resistant wheat (containing more than 12 per cent protein), basmati rice having strong gluten and low-yellow grains with 65 to 70 per cent milling recovery and grain length/breadth ratio of more than 2, maize with high lysine and tryptophan, brassica oil seeds/ 'canola' type varieties having less that 2 per cent erucic acid and nutritious rice, like the golden-rice that is fortified with Vitamin A and iron.
This calls for setting up state-of-the-art quality control laboratories in different zones/regions. Likewise, making use of information technology, remote-sensing techniques, geographic information system, market intelligence, biotechnology, etc., will require special attention.
The cogent conclusion is adoption of concept-based precision farming and crop diversification system. Punjab's myopic vision and short-term/ad hoc fire-fighting approach will help in only 'managing,' not 'mitigating,' the crises.