Friday, September 6, 2002, Chandigarh, India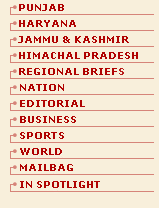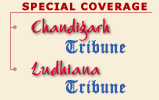 H A R Y A N A
CM 'did not give memo' on drought
Hisar, September 5
Mr Ajit Singh, Union Agriculture Minister, said today that the Haryana government had not submitted any memorandum to the Centre regarding drought in the state. Addressing reporters here, he said though Haryana Chief Minister Om Parkash Chautala had been claiming that the government had submitted detailed report on drought to the Centre but the Cell in the Agriculture Ministry which accepted such reports had not received any report from Haryana so far.
Assembly session — a mere obligation
Chandigarh, September 5
With the Constitutional obligation over, the ruling party as well as the Opposition have heaved a sigh of relief. This is the impression one gets from the fast deteriorating level of discussions in the Haryana Vidhan Sabha, the monsoon session of which concluded yesterday after four sittings.
WLL telephony in major cities of Haryana soon
Ambala, September 5
Wireless in Local Loop telephony will be launched in all major cities of Haryana during this financial year. Talking to mediapersons here today, the Chief General Manager (Telecom), Mr A.K. Nagpal, said presently this service was available in Gurgaon.
14 HCS (Executive) candidates appointed
Chandigarh, September 5
Government apparatus is often accused of sluggishness and the Haryana Government is not an exception. The Haryana Government, however, was quick in issuing appointment letters to 14 candidates selected for the Haryana Civil Service (Executive) whose appointments were held up due to a court case.
POSTINGS/ TRANSFERS
Eight IAS, 14 HCS officers shuffled
Chandigarh, September 5
Just before leaving the country on an eight-day tour of the UK, France, Belgium and Tunisia last night, the Haryana Chief Minister, Mr Om Prakash Chautala, ordered an administrative reshuffle affecting eight IAS and 14 HCS officers.
Bansi Lal at his unsparing best
Panchkula, September 5
Former Chief Minister and President of the Haryana Vikas Party, Mr Bansi Lal, was at his wittiest and critical best. From the Congress supremo Sonia Gandhi to Chief Minister Om Prakash Chautala, everyone seemed to be on his hit list.

Stories from Haryana towns falling in the National Capital Region are put in NCR Tribune.
Lokayukta Bill okayed
September 5, 2002
Cong stages walkout in Haryana Assembly
September 4, 2002
Session begins with heated exchanges
September 3, 2002
Kataria to stay state BJP chief
September 2, 2002
Chautala goes on stone-laying spree
September 1, 2002
CM goes cautious on MoU
August 31, 2002
Farmers' power bills may be waived: CM
August 30, 2002
Woman 'sold for Rs 30,000'
August 29, 2002
Petrol pump case: Estate Officer files application
August 28, 2002
Haryana doesn't expect hike in paddy MSP
August 27, 2002
Cong threatens stir on cane growers' dues
August 26, 2002