Saturday, September 7, 2002, Chandigarh, India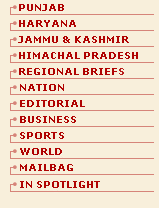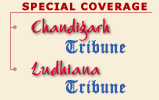 N A T I O N
Crucial CCD meeting today
New Delhi, September 6
Despite opposition from Defence Minister George Fernandes and Coal and Mines Minister Uma Bharati, the top leadership of the government is understood to have agreed upon approving the strategic sale route for offloading government equity in public sector oil refining and maketing majors — Hindustan Petroleum Corporation Limited and Bharat Petroleum Corporation Limited.
Sonia mum on foreign origin issue
New Delhi, September 6
Congress President Sonia Gandhi today chose to remain silent on Tamil Nadu Chief Minister J. Jayalalithaa's remarks on her foreign origin.
Naval Chief's US visit to boost cooperation
New Delhi, September 6
Major regional issues like terrorism, piracy and surveillance in the Arabian Sea and Bay of Bengal will be on top of the agenda during the talks which the Chief of Naval Staff, Admiral Madhvendra Singh, will have with his US counterpart during his 10-day visit to the country from tomorrow.
Karnataka gets act together
September 6, 2002
Report on babies' deaths sought
September 5, 2002
Pak move on LoC 'sagacious'
September 4, 2002
Jaya: no amnesty for Veerappan
September 3, 2002
Malta sufferers in a fix
September 2, 2002
Nod to Hawk next week likely
September 1, 2002
Army fears major arms influx via Manipur border
August 31, 2002
Centre may deploy BSF in J&K
August 30, 2002
STF steps up search operations
August 29, 2002
Advani confident of winning proxy war
August 28, 2002