Jagjit's magic wearing thin
Aditi Tandon
Tribune News Service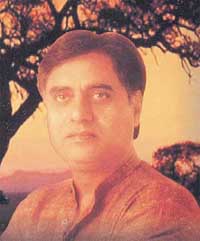 Chandigarh, September 7
The much-awaited live concert by 'ghazal' maestro Jagjit Singh, notwithstanding hopes of fans and efforts of event managers "overly" involved in the affair, was just not destined to be.
From noon till sunset today, the larger-than-life image of Jagjit Singh kept growing on those who waited upon him, either in the lobby of hotel Mountview or outside his room. The singer, however, decided to oblige no one, except those he had "already promised" a meeting. Curious fans tested their patience, but Jagjit Singh did not come out of his room till 7.30 pm. The UT Administration laboured hard to arrange the show, and there was a suggestion that Tagore Theatre be used as a venue instead of the Leisure Valley, it was rejected because the seating capacity of Tagore Theatre is just 578, much less than the number of passes distributed. The show has been put off till September 17.
Jagjit Singh was "very sad" over the unexpected turn of events, so said a group of organisers, who gave him company all day. Trying hard to keep the maestro away from public eye, one of them said: "He is sad and not in a mood to come out or speak." While sadness was understandable, the rest of the statement was too "emotional" to be believed. Amid bitterness that followed at the hotel, Jagjit Singh remains ever revered.
The sounds of 'The Unforgettables' began resonating all around, as if the melodies were already pouring. From the popular 'ghazal' 'Dard Badhkar Fuga Na Ho Jaye' to the evergreen 'nazm' 'Baat niklegi to phir' tried to relive those absorbing rhythms that make Jagjit Singh a hit. The remarkable singer, who spilled magic along with his better half for years, now sings alone. Though it is difficult to ascertain how comfortable he feels with that, his melodies are no longer as enchanting as before.
Credited with inspiring light classical music to get a fresh soul, Jagjit Singh, now seems to be facing a crisis of sorts. His music now, does not match that of his golden albums like 'The Latest', 'Desires', 'Passions', 'A Sound Affair', 'Someone Somewhere' and 'Echoes'. His "socially relevant" songs in 'Cry for Cry' and 'Mirage' were not so much in line with his magic.
The depth in his work began to diminish ever since Chitra Singh was flanking him no more on stage. Though many say, that Chitra's voice and technique were not as refined as Jagjit's, there have been times when her range and style have left the audience in awe. Even today, her 'Lori' from Punjabi movie 'Diva Bale Saree Raat' is considered more than perfect. The maestro adores Chitra, his perfect partner in rhyme.
As years have gone by, Jagjit Singh has, strangely, earned more name for devotional songs than 'ghazals'. Bypassing devotional singers like Hari Om Sharan, Anup Jalota, Bhimsen Joshi, Lata and Pt Jasraj, the maestro might, now, be treading a fresh path.