SPECIAL FOCUS
A framework for resolving Jammu & Kashmir crisis
From confrontation to confederation
B.G.Verghese
RECONCILIATION and peace process with regard to Jammu and Kashmir must address three critical concerns and do this concurrently, not sequentially. First, India must undertake an internal dialogue and healing process. Key elements in this package will be an accord on autonomy for J&K, an amnesty for those not charged with heinous crimes, good governance, the safe return of the Pandits, and effective implementation of a meaningful development and employment programme. Autonomy, or devolution as the BJP would prefer, is central. Nomenclature does not matter, substance does.
The Kashmiri view has always been that after long subjugation they must shake off alien rule, which in the last phase meant Dogra supremacy. "Quit Kashmir" for Kashmiris was what "Quit India" symbolised on a larger canvas. For the National Conference therefore, it was essential that freedom precede accession. Sheikh Abdullah, the State's foremost leader, rebuffed Jinnah's overtures. But accession to India was involuntarily forced by the Pakistan-sponsored tribal invasion.
Thirteen years of civil strife and cross-border proxy war has taken countless lives and brought misery, fear and uncertainty in its train. However, the Indian state cannot be defeated and will not walk away. On the other hand, fatigue and disenchantment with Pakistan have been reinforced by international recognition, especially after Kargil, that the UN Resolutions are dead and practical solutions that exclude secession or independence merit support. India likewise knows that pacification is not peace and that it has to find a political solution.
The people of J&K must be enabled to secure self-determination or azadi within India. That space must be created. Autonomy and the abrogation of Article 370 are not polar opposites. Integration with India is governed by Article 1 and Schedule 1, which defines the Indian Union, as well as by corresponding sections of the J&K constitution. Article 370 is merely a mechanism for regulating Centre-State relations with regard to J&K. Trifurcation, as advocated by sections of the BJP and the RSS, cannot be a counter to autonomy. It comes dangerously close to a latter-day endorsement of the two-nation theory.
Secondly, there is need to negotiate regional autonomy for the three main constituent units of J&K. It is necessary to end the sense of economic and political discrimination that Jammu and Ladakh feel in relation to the Valley. Further particularities within these three regions had led the J&K Regional Autonomy Committee to suggest the creation of eight new regions in the State. This may not be acceptable. The alternative (suggested by the Committee itself) would be district autonomy.
Thirdly, there must be genuine talks with Pakistan to resolve the Kashmir question. However, to the extent that India is able to secure an internal settlement, Pakistan will lose its leverage in J&K.
Issues in contention
The major issues in contention for Kashmiris principally relate to the Emergency provisions, the role and powers of the Governor, the Central services, the jurisdiction of the Election Commission, Supreme Court and CAG, and restoration to the State of all Concurrent powers. The State is financially dependent on the Centre and would obviously not wish to lose its support in matters of investment and tourism. Emotional and psychological factors lie behind the demands for repatriation of powers to the State. Once a dialogue gets under way, not all of these are likely to be pressed. The extent of autonomy is ultimately a matter of trust. Nothing will be lost if J&K comes to enjoy greater autonomy within the Union.
Some may ask why J&K should be treated differently from any other state. The fact is that it is different. Article 370, the existence of a state constitution, Pakistani occupation of a third of the State, the UN factor and the ongoing insurgency make J&K a special case. In 1984, the Supreme Court in Khazan Chand vs J&K observed that the State "holds a special position in the constitutional set up of our country". Moreover, the Constitution celebrates India's diversity. Articles 371 and 371-A to I contain special provisions for Maharashtra and Gujarat, Nagaland, Assam, Manipur, Andhra, Sikkim, Mizoram, Arunachal and Goa. Article 290A has special provisions pertaining to Kerala and Tamil Nadu. The Fifth and Sixth Schedules prescribe a special dispensation for tribal areas. Similarly, the Constitution provides for reservations for Scheduled Castes and Scheduled Tribes. Sikkim has a category of "state subjects" and minorities enjoy certain protection. Himachal Pradesh, like J&K, regulates purchase of land by outsiders. None of this has caused India to fall apart. On the contrary, respect for diversity and accommodation is what holds India together.
Regional autonomy
Autonomy for J&K must prudently be accompanied by devolution of regional autonomy to its regions so that traditional rivalries stemming from divergent socio-cultural and geo-political interests are harmonised. The Glancy Commission (1931), the Gajendragadkar Commission (1967) and the Sikri Commission (1980) were set up to look into regional disparities. The problem persists. It has taken the form of agitation in certain quarters in Jammu for separate statehood or abrogation of Article 370, and a demand for Union Territory status in Ladakh. The Darbar (government) moves to Srinagar in summer and to Jammu during winter.
A Ladakh Autonomous Hill Development Council was legislated in 1985. A Leh Autonomous HDC was soon established but Kargil declined to follow suit. New sub-regional identities have come to the fore and various demands have been made by and partly conceded to Gujjars, Paharis and Pandits and Ladakhis for special protection and preference in terms of language, development and grant of tribal status.
One way of balancing these diverse regional interests would be to structure different levels of integration and devolution within the ambit of the Constitution. An upgraded and democratically empowered panchayati raj regime could take care of all sub-regional identities and interests. It should be possible thereafter to provide that contiguous districts may come together if they so desire for certain approved purposes of regional development. The powers devolved to the regions could be calibrated to be more "integrative" or "autonomous" in terms of Centre-State relations. Article 258 empowers the President to "entrust" to a state government, whether conditionally or unconditionally, functions in relation to any matter to which the executive power of the Union extends, the additional costs involved being defrayed by the Union. Conversely, under Article 258A, the Governor of a state may, with the Centre's consent, entrust to it conditionally or unconditionally functions in relation to any matter to which the exclusive power of the state extends. Such arrangements could be suitably entrenched and would provide flexibility in fine tuning Centre-state and intra-state-Centre relationships in order to meet the exigencies of varying circumstances.
The Sarkaria Commission saw in Articles 258 and 258A a mechanism that could be sensitively used to enhance cooperative federalism. Creative use of these Articles could also be made to deconstruct and reconstruct Centre-State and intra-state relations in J&K. The Northeast has been a unique political laboratory in experimenting with many gradations of regional autonomy in respect of different areas and communities. This has been done on a territorial and a non-territorial basis. The Karbi-Anglong model of autonomous councils in Assam is the most advanced in India. The entrustment principle, being operational, has lessons for J&K.
Identity problem
Pakistan has an identity problem because the Muslim League's needlessly narrow self-definition of the new state was posited on being "the Muslim other" to what it conceived of as "Hindu India". Its governing elite and other Mohajir migrated to Karachi leaving behind almost as many Muslims in India as there were in West Pakistan. They simultaneously distanced themselves from "Indian" history, heritage and culture, with little other than religion to take their place. Hence the claim to J&K as a contiguous princely domain with a Muslim majority and its description as Pakistan's "jugular vein" and "lifeline" whose reclamation remains the "unfinished business of Partition". Kashmir was made the core and symbol of nationhood as the country found itself increasingly unable to fashion a constitution and a coherent national polity. Many found a patriotic rallying cry and cementing bond in Kashmir, not least the Army, which was soon on its way to becoming an autonomous and, now, the dominant power in the country.
Pakistan's efforts to annex J&K from 1947 onwards through overt and covert operations have been firmly rebuffed. Though Indian political mismanagement provided it openings that it was quick to exploit at various times, it has overplayed its hand. It assiduously developed a nuclear weapons capability to offset India's superiority in conventional arms and, by its own admission, thrice resorted to nuclear blackmail of this country well before South Asia went overtly nuclear in 1998. Kargil and the new wave of jehadi attacks were postulated on the basis of bleeding India and then crying nuclear wolf on the dangers of escalation if India retaliated. The September 11 Al-Qaeda attack on the USA and the exposure of the ISI's close links with the Taliban created a new international awareness of Pakistan's complicity in terror and nuclear brinkmanship. Yet it remains a frontline state and ally for the USA in America's continuing engagement with the Al-Qaeda.
Window of opportunity
These developments have created a window of opportunity for India in J&K. There is growing disenchantment with Pakistan's self-serving violence through foreign mercenaries at the cost of innocent Kashmiri lives and a yearning for peace. India has to dialogue and settle with its own people in J&K on autonomy, good governance and doing what it takes to build trust and respect in place of alienation. This process can run parallel with a dialogue with Musharraf, particularly after the forthcoming elections in J&K and Pakistan. The fact that some members of the late Abdul Ghani Lone's Peoples Conference are contesting the J&K poll signifies new stirrings. Pakistan is being challenged.
In Pakistan itself, the amendments to the Constitution announced by Musharraf ensures the military a formal, even dominant, place in governance through the national security council and enhanced presidential powers. Nevertheless, the election — howsoever flawed — of a civilian government with a prime minister at its head will mark the incipient restoration of civil authority within some kind of democratic framework, howsoever restrictive it may be at the outset. Musharraf too is riding a tiger and seeks legitimacy. It would be in India's interest to support liberal democratic elements in Pakistan and provide the General with an exit. Dialogue could serve both purposes.
Musharraf has said that he is prepared to be flexible and look at unconventional solutions. Any settlement must give Pakistan something without disabling India while providing comfort to the Kashmiri people at the same time. The term "Kashmiri people" must obviously mean all the people of J&K on both sides of the LoC and not merely some of them. The basic agenda was agreed upon in Lahore and talks should proceed without preconditions. At stake is not the fact of a "dispute" over J&K but the nature of the dispute. Perceptions vary. There would be little purpose in rehearsing history. A clear recognition of ground realities would be more to the point.
The first and foremost reality is that war and violence will solve nothing. India must talk to Pakistan not because virtue and logic are on its side but because it is there. Our own follies have ensured Pakistan a larger presence in J&K than would have been the case otherwise. It simply cannot be wished away. Likewise, Pakistan must realise that it is approaching end game in Kashmir and needs to move away from the brink to save itself. World opinion has changed and will not permit alteration of the LoC by force or nuclear brinkmanship. A plebis-cite has long ceased to be a viable option. Neither India nor the world is prepared to countenance another partition in South Asia along real or imagined religious fault lines.
Towards confederation?
A bold and generous Indian offer of further autonomy to and regional autonomy within J&K, together with a package of political and economic reforms as outlined, would assuredly capture the imagination of the people. It would rob Pakistan of its dwindling leverage and, indeed, build pressure on it to match this in Azad Jammu & Kashmir (AJK) and the Northern Areas (NA). Self-determination and azadi for all of the people of J&K, Pandits included, can and must be found within the framework of India and Pakistan respectively. It is not going to happen outside these established sovereignties. History is not easily unscrambled, especially when it has been written in blood.
A critical element of an unfolding settlement would be the conversion of the LoC into an international border. This should be a soft, porous border that admits of relatively easy passage of people and commerce and other interactions between the two sides. Few seem to have understood the significance of one of the pre-Agra confidence building measures announced by India, namely, an expression of willingness to open the traditional Jammu-Sialkot, Uri-Muzaffarabad and possibly even the Kargil-Skardu routes for cross-border traffic. Simple travel documents and baggage and currency regulations could be devised and progressively developed. Family visits, tourism, pilgrimage, trade, investment, joint ventures and institutions, and a variety of cultural and people to people exchanges can be envisaged.
Oversight of such protocols would require the establishment of appropriate mechanisms and related infrastructure.Agreement would be necessary for border management, crime prevention, trade and transport facilitation and communication links. There would be common environmental, health and other concerns calling for coordinated action. The Indus Treaty was drawn up essentially as a water sharing arrangement. It did not devote much attention to optimal development of the potential of the Indus system in terms of water storage and energy. This could be the basis for negotiating an Indus-II for the collaborative development of the basin to mutual benefit. Such a programme is likely to attract international investments to make J&K the playground of Asia.
All these developments would incrementally create a cross-border architecture of institutions that could gradually mesh to form overarching structures and fora. Mutual adjustments along the LoC would serve to rationalise the border in the interests of administrative convenience and on ecological and security considerations. A demilitarised border could be the first step towards designating zones of peace and, in time, agreement on joint defence.
The Siachen dispute can quite easily be settled by reaffirmation of the extension of the LoC from NJ 9842 due north to wherever it meets the international boundary followed by mutual troop withdrawals. The entire glaciated region from the Karakoram Pass to K2 and even further west, and even the Skaksgam Valley and part of Aksaichin (if the Chinese so agree), could be declared a World Heritage Karakoram Glacier and Nature Park with UNEP and IUCN support.
The Indo-Pakistan dialogue has to go beyond J&K. Nuclear risk reduction and a nuclear restraint regime must rank high on the agenda. There is every reason for cooperation in building an Iran-Pakistan-India and Turkmenistan-Afghanistan-Pakistan-India gas pipeline. Afghanistan and Iran, like Myanmar, could in due course become members of a revivified SAARC.
What this in effect means is that J&K could in stages be demilitarised and transformed from a zone of conflict into a zone of peace. Together with AJK, it could acquire the attributes and symbols of some kind of sub-regional condominium or confederation, without derogating from Indian and Pakistan sovereignty over these respective territories. Far from dividing them, Kashmir could become the fulcrum of a new Indo-Pakistan relationship. Pakistan would gain legal title to AJK and NA and each side would come to have a shared stake in the security and welfare of the other half now closed to it. The people of J&K would be prime beneficiaries, enjoying the best of all worlds. The critic may deride what may be seen as wishful thinking. Yet, Nehru in 1964 and L.K.Advani more recently have both spoken of confederation as a possible solution. It would be open to Bangladesh to walk the same road.
An Indian Prime Minister, referring to the future of J&K, said some years ago that "short of independence, the sky is the limit". On the other hand, once the ghosts of Partition are laid to rest, Pakistan will rediscover itself and be able to reclaim its heritage without fear of diluting its distinctive identity. An Indo-Pakistan rapprochement would make SAARC a dynamic engine of regional cooperation and growth in South Asia. The SAARC Vision envisaged SAFTA leading on to a South Asian Community by 2020. This is no idle dream.
Whichever way it happens, there has to be an end to confrontation. Complex questions are sometimes best resolved by placing them in a wider context of time and space. So if we envision an ideal future in and for South Asia, we can then work backwards to determine what should or can be done, when and how in order to reach the chosen destination.

The Instrument of Accession
The Instrument of Accession was a standard document applicable to all the erstwhile princely states. Its signature by the Maharaja of Jammu and Kashmir on October 26, 1947 transferred responsibility for defence, foreign affairs and communications to the Union. Anything beyond this required the concurrence of the State government.
The Instrument of Accession was constitutionally effectuated by the 1950 Presidential Order. This made 37 entries of List I applicable to J&K but excluded the State and Concurrent Lists, leaving all residuary powers with the State.
The J&K Constituent Assembly was elected in 1951 and went on to adopt certain basic objectives which were incorporated in the Delhi Agreement signed on July 24, 1952. This stipulated that while all J&K residents were Indian citizens, state subjects would enjoy special rights and privileges within J&K. The State would have its own flag alongside the national flag.
The Sheikh was dismissed on August 8 but the Delhi Agreement was ratified by Parliament and the State Assembly before the end of the month. "Going back to 1953" therefore implies accepting everything up to this point. This goes beyond the bare Instrument of Accession; Dr Farooq Abdullah has said that the National Conference for one is prepared to renegotiate other issues.
Potted history
Sheikh Abdullah's restoration in 1975, the Indira-Sheikh Agreement and the fair and free polls in 1977and 1983, constituted a new beginning. However, Farooq Abdullah's ouster in 1984 and the rigging of the 1987 polls betrayed the hopes of a new generation.
Anger and disgust gave birth to a revolutionary upsurge inspi-red by the fall of the Berlin Wall, the collapse of communism, and liberation movements elsewhere. Pakistan seized the opportunity to step up cross-border terrorism through a proxy war.
The Afghanistan eruption in 1980 caused Pakistan again to became a frontline state. The Taliban grew under the tutelage of Pakistan, with Zia's Islamisation ripening into jehad, making the country a focal point of international terrorism.
1998 saw the covert nuclearisation of South Asia. Vajpayee's Lahore initiative was derailed by Kargil. The world saw through Pak's duplicity and insisted that it respect the LoC. Gen Musharraf captured power in a coup.
September 11, 2001 was a defining moment. Musharraf had little choice but to commit Pakistan to Operation Enduring Freedom and the global alliance against terrorism. He has since walked a tightrope with the promise of curbing the jehadis yet unable to abandon support for the so-called "freedom struggle" in Kashmir.
India took the path of coercive diplomacy after Parliament was attacked on December 13, 2001. This compelled the West to take more serious notice of its concerns for fear of an Indian military response leading to nuclear escalation.
POK & Northern Areas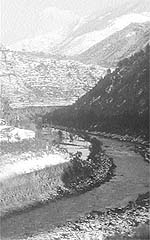 The "Azad" Jammu & Kashmir (AJK), and the Northern Areas (NA) are in the Pakistan Occupied Kashmir (POK), but are separate entities, each having a different relationship with Islamabad.
AJK, with its capital in Muzaffarabad, is ethnically predominantly Punjabi-Pathan. Pakistan "approved" its latest interim constitution in 1974 which prescribes that no person or political party shall propagate or participate in activities "prejudicial or detrimental to the ideology of the States's accession to Pakistan". Freedom of speech is subject to reasonable restrictions in the interests of "friendly relations with Pakistan". The oath for official functionaries enjoins "loyalty to the country and the cause of accession of the state of J&K to Pakistan". In the most recent AJK elections, many opposition candidates were disqualified as they objected to the oath.
Final authority vests in an AJK Council, located in Islamabad and chaired by the Prime Minister of Pakistan. The Federal Minister for Kashmir Affairs and the Northern Areas (KANA) is all powerful. The chief justice, chief election commissioner and auditor general are appointed on the advice of the Council.
The Northern Areas embrace 11 old established principalities and feudatories of the Maharaja including Gilgit, Hunza, Nagir, Yasin, Koh, Ghizer, Ishkoman and the Skardu region of western Baltistan. These were virtually annexed from AJK by Pakistan in 1947. Nor are they constitutionally part of Pakistan. They enjoy few civil or political rights and have no access to any higher judicial authority. This has aroused open discontent both in the NA and AJK and has been the subject of litigation through the 1990s.
Excerpts from the P.N.Haksar Memorial Lecture delivered at Chandigarh's Centre for Rural Research and Industrial Development (CRRID) on September 5, 2002, by the author, who is Visiting Professor, Centre for Policy Research, New Delhi.