Tuesday, September 10, 2002, Chandigarh, India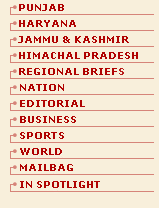 C A L E N D A R
Tuesday, September 10, 2002
Vikrama Samvat
2059
Bhadrapada
26
Shaka Samvat
1924
Bhadrapada
19
Hijri
1423
Rajab
2

Bhadrapada Shukla Paksha Chaturthi up to 6.30 p.m.
The fourth lunar day of the bright half of Bhadrapada
Chitra Nakshatra up to 10-12 a.m.
Duration of Bhadra 8-5 a.m. to 6.32 p.m.
Ganesh Chaturthi (Maharashtra)
Pathar Chouth
Kalank Chaturthi
Angaraka Chaturthi
Samvastari Chaturthi Paksha (Jain)
Sighting of moon to be avoided.