Thursday, September 12, 2002, Chandigarh, India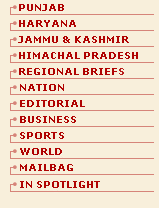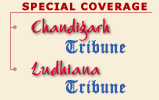 B U S I N E S S
Govt to go slow on disinvestment
New Delhi, September 11
The Vajpayee government may have officially deferred the disinvestment in oil PSUs-HPCL and BPCL — for three months, but according to indications from the government and the BJP circle the offloading of equities in the two oil companies can take much more time.
Sell-off row to widen fiscal deficit
New Delhi, September 11
The government's decision to shelve the disinvestment process of public sector oil companies and the Rs 14,000 crore UTI bailout would have wide-ranging adverse impact on the Indian economy, resulting in a higher fiscal deficit than the targeted level of 5.4 per cent and hampering the reform process initiated in the Budget, according to a top economic institution.
People allergic to euro: study
London, September 11
Forget the effect on the economy, people themselves are allergic to the euro, according to a study in Nature magazine published on Wednesday.
Now aircraft with bullet-proof doors
Singapore, September 11
Singapore Airlines said on Wednesday it will install surveillance cameras and bullet-proof cockpit doors on all of its 94 planes.
No FIR against PCL MD yet
September 11, 2002
US-Iraq stand-off: oil, gold up
September 10, 2002
Govt's package falls short of expectations
September 9, 2002
Mega units spiral tax losses
September 8, 2002
FDI limit in telecom may go up to 74 pc
September 7, 2002
Selloff row may derail reforms: Shourie
September 6, 2002
New patents law within 10 days
September 5, 2002
Fernandes meets PM over disinvestment issue
September 4, 2002
BSNL announces cellular services in Oct
September 3, 2002
Price cut, sales and speculation
September 2, 2002