M A I N N E W S
It poured all day
Snow in upper reaches of HP, J&K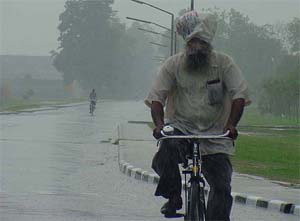 Only those who absolutely needed to ventured out in the downpour in Ludhiana on Thursday.
— photo by Pardeep Tewari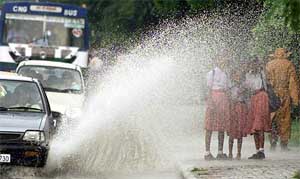 Vehicles splash a group of schoolchildren during heavy rain in New Delhi on Thursday.
— Reuters photo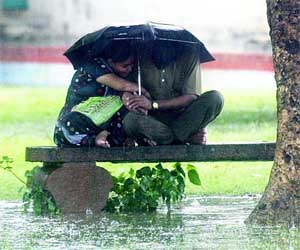 A couple enjoys the downpour at Boat Club in New Delhi on Thursday. — PTI photo
Chandigarh, September 12
Heavy rain lashed several places in Punjab, Haryana and Himachal Pradesh today, plummeting temperatures by several degrees.
The city recorded over 30 mm of rainfall following incessant rain throughout the day. The maximum dipped by 10 degrees and came down to 23°C, according to the Meteorological Department here.
In Haryana, reports of rain were received from several places, including Ambala, Kurukshetra and Karnal. Ambala was lashed by 42 mm of rain during the day and the high plummeted by 12 degrees at 23°C. Hisar was down eight degrees at 28.2°C after receiving light rain.
In Punjab, Ludhiana was lashed by 38 mm of rain and the high settled at 26.4°C, down nine degree. Patiala was drenched by 75 mm of rain and the high dropped by 11 degrees at 23.2°C. Amritsar recorded a high of 33.1°C.
Delhi-Shimla flight of a private airlines was cancelled as the higher reaches in the tribal areas of Kinnaur, Lahaul-Spiti, Pangi and Bharmaur had another spell of moderate to heavy snow while the mid and lower hills were lashed by heavy rain, triggering landslides at numerous places.
Vehicular traffic was playing normally on major national and state highways but link roads had been closed at several places in the interiors of Chamba, Mandi, Kulu, Shimla and Sirmour districts.
The Manimahesh region in Chamba district where "chhari yatra" resumed yesterday had another spell of snow while Lahaul and Pangi valleys had moderate snow.
Higher reaches of Jammu and Kashmir also had fresh snow, the second this season, while the lower reaches have been experiencing widespread rain since yesterday.
All rivers, including the Beas and the Sutlej, and their tributaries and rivulets were in spate.
The Parvati river, in which a bus plunged recently killing 39 persons, has turned turbulent. While six bodies had been found, the remaining are believed to have been washed away.
Three expert divers of the BBMB have reached the accident spot at Tahuk village in the Manikaran valley of Kulu to assist the rescue teams.
Deputy Commissioner (Kulu) R.D. Nazeem said a team of experts from the NHPC, along with equipment, was trying to extricate the bus. PTI, UNI