THE TRIBUNE MAGAZINES
On alternate Mondays

On Sundays
On Saturdays

IN PASSING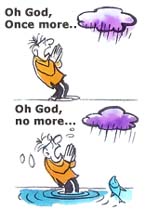 by Sandeep Joshi
Curriculum not saffron: SC
New Delhi, September 12
The Supreme Court today categorically held that there was no attempt to saffronise the school syllabus in the new National Curriculum Framework for Secondary Education - 2002 and directed its immediate implementation.



NCR page: SC gives a green light to NCERT
Metsat in orbit
Sriharikota, September 12
Metsat, India's first exclusive meteorological satellite, was successfully injected into a geosynchronous transfer orbit by PSLV-C4, 21 minutes after the launch vehicle soared majestically into the sky from Satish Dhawan Space Centre here this evening.

In video (28k, 56k)
Sangra sworn in as PPSC chief


Chandigarh, September 12
Lt-Gen Surjit Singh Sangra (Retd) was sworn in as Chairman of the Punjab Public Service Commission at a simple ceremony at Raj Bhavan today. The oath of office and was administered by the Governor, Lt-Gen J.F.R. Jacob (retd).


It poured all day
Snow in upper reaches of HP, J&K
Chandigarh, September 12


Heavy rain lashed several places in Punjab, Haryana and Himachal Pradesh today, plummeting temperatures by several degrees. The city recorded over 30 mm of rainfall following incessant rain throughout the day. The maximum dipped by 10 degrees and came down to 23°C, according to the Meteorological Department here.
Homage at Ground Zero
September 12, 2002

Ultras kill J&K Law Minister
September 11, 2002

Rajdhani jumps track,
100 feared dead
September 10, 2002

Modi kicks off gaurav yatra
September 9, 2002

BCCI ultimatum to players
September 8, 2002

ICC bows to players
September 7, 2002

No free power for farmers
September 6, 2002

India beat Pak 3-2 in hockey
September 5, 2002

Jacob likely to replace Bhandari in Gujarat
September 4, 2002

SC stands by EC order
September 3, 2002