These are the sentiments echoed by some elderly parents whose children have flown the nest to make their own nests across the globe. Interestingly, on zeroing in on them one found that their twilight years are not one long saga of utter loneliness and sheer despondency and helplessness. Instead, the evening of their life is suffused with the sunshine of close bonds that they have nurtured with other members of the community, be it friends, local relatives, neighbours or even tenants and paying guests. Though they can't soak in the warmth of their loved ones' physical proximity, they can bask in the glow of meaningful pursuits—whether it is active social work, indulging their hobbies, searching for spiritual contentment or simply socialising.
True, technology has helped shrink the world—e-mails and video conferencing have virtually done away with delays in communication and brought their distant kith and kin into their living rooms. However, the rapid and frequent exchanges cannot in any way make up for the reassuring physical presence of their own progeny— like listening to the innocent prattle of tiny grandchildren, getting an affectionate peck on the cheek or a hand being held by their child when they are ill or simply feeling low.
Parents whose children are settled elsewhere within the country can still have the benefit of their bi-annual or more frequent visits, but those whose children are overseas can only look forward to annual or once-in-two-years meetings. Then what is it that keeps these aged parents going through the good times and the bad? What are the bonds and support systems that define and sustain their empty-nest existence?
Seeking new companions
On speaking to some such parents it became evident that they have learnt to do without their children and grandchildren's presence on all those occasions of caring and sharing that are traditionally associated with familial presence—be it a festival, birthdays in the family, or times of illness and indifferent health. Though it is inevitable for them to miss their brood when they take wings and fly away to foreign shores, they have filled their empty nests with companions who are more proximate and whose help is more immediate.
In their case, the traditional concept of a family acquires a new face or dimension wherein neighbours, friends and other members of the community step in to fulfil the roles and duties that are conventionally expected of the children. Familial absence throws up alternative or surrogate bonds and interests that are sometimes as enduring and enriching as those with the blood relationships.
Friends are forever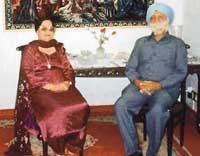 Veryam Kaur with husband T. S. Trewn
For Veryam Kaur and her husband Cdr (retd) T. S. Trewn, it's the neighbours who've been a pillar of support when she and her husband underwent eye operations recently. "One of our neighbours really pitched in by driving us to the doctor and other places after our eye surgeries," she says with appreciation. Their next-door neighbour, a retired Brigadier, being a doctor, is their "man in need" whenever they require health advice or some minor treatment. And the couple living upstairs are like their own beta-beti.
Incidentally, other couples in their social circle too are similarly placed—their children are also settled abroad. Thus they form a mutual support group since they can empathise and understand each other's problems and needs. "The moment any of us is in need, we rally around at once," adds Commander Trewn.
Advancing age, which brings with it fragile health and often constant medical monitoring, is a time when parents, howsoever self-reliant, would love to be pampered and fussed over by their kids. But when their offspring are in distant countries, from where frequent visits are well nigh impossible, or rather impractical, the parents learn to fend for themselves. Not only that, they even keep minor health problems a secret from the children, not wishing to cause them unnecessary anxiety.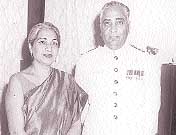 Mina Singh and husband Bill
So it is for Mina Singh and her spouse, Air Cdre (retd) Satinder Singh, better known in their circle as Bill. "My husband and I have a pact not to bother our son with news about our minor health problems." For a major medical treatment though, like the angiogram she underwent about seven years ago, her son flew in from the USA and "kept holding her hand". But for routine check-ups or minor ailments, they've evolved a self-help system that enables them to do without the constant presence of their son, who has been away in Florida, USA, since the 1980s. Here again, a family-friend-cum-physician steps in to lend a reassuring touch.
For Harcharan Singh Ghambir, executive member of the Sector 39 (HIG Flats) Resident's Welfare Society, it is the little boy he has employed as full-time household help who has been doubling up as an attendant in times of ill health, while the neighbours assist in other ways. "When I suffered from an excruciating backache recently, this little boy dutifully applied a gel on my back everyday. And he did it with a lot of care and affection, just like my own children would have done." As far as the routine check-ups go, he is on his own, like driving alone to the Sohana eye hospital recently to get an eye problem attended to.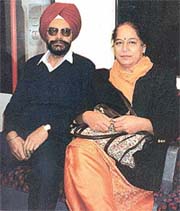 S. S. Chawla with wife Jatinder
The recently retired S. S. Chawla and his better half, Jatinder, whose younger daughter is based in Jakarta, Indonesia, too are not the quintessential lonesome twosome, thanks to the intimate ties they've cultivated in Chandigarh over the years. "We do miss having the kids and especially their tiny tots around us on birthdays and anniversaries. But then we have a network of close friends and relatives with whom we share the good times and the bad," explains Jatinder.
Family on rent
Healthcare is just one area where intimate bonds with neighbours define their geriatric existence. The nurturing and caring extends to other day-to-day needs and special occasions too. Informs Pooja, "An old widow in our neighbourhood never had to cook meals. The tenants on the first and second floors of her house would send her the khana by turn. And the doctor couple on the top floor promptly attended to her when she fell ill."
It is give and take
And that is the bottomline of these surrogate family bonds, wherein tenants, paying guests or neighbours become like an adopted family—the reciprocal nature of the relationship. The monetary exchange between old couples and their tenants/paying guests apart, there is a lot of give and take that is mutually beneficial to both parties. The old people get company and care, while the younger couples or boys and girls, who come away from other regions or places, get a home away from home.
Explains Sherry Sabbarwal of the Department of Sociology, Panjab University, "It has to be a two-way, symbiotic relationship, that of give and take. Even with one's own children the ties are essentially contractual. You can't be extracting and make only demands that bachche hamari sewa karein. The elders too have to do something for their kids to expect things in return."
Pooja endorses this. "The old widow used to play the role of a mother or mother-in-law to her tenants. She would buy them saris on Karva Chauth and give their children gifts and mithai on Divali and other festivals. That's why they fondly called her maa ji."
Love thy neighbour
Cdr Trewn also totally agrees with the reciprocal nature of these surrogate tie. "One has to bend backwards to reach out to the neighbours. After all, in case of an emergency, they're the ones who can ferry us to a hospital immediately. We do our bit by sending our servant to run errands for the neighbours whenever they're in need and getting gifts for friends when we return from our foreign jaunts."
Take the case of Neera and her husband, Sunit (names changed), who have just moved into the first floor of their uncle's house. The uncle, who occupies the ground portion of his house, is a widower, whose children are in the USA. The old man no longer feels lonely as Sunit fills him in about the latest stock market prices in the evening or they chat up about the new face of Indian presidency over a cup of coffee and the freshly baked chocolate cake that Neera brings down from her kitchen.
And the younger couple doesn't have to think twice before leaving their kids behind when they go for late-night parties. Uncle not only keeps a watchful eye on their sons but also indulges them the way he would have his own pota-poti if they were with him.
It's not fine to whine
Giving a sociological profile of old couples, Sherry elaborates, "Broadly speaking, aged people fall into two categories. First, the complaining type, who will keep cribbing about being alone or dwelling too much on their ailments, real or perceived. The second type are pragmatic, with a realistic approach, who accept that their children are no longer with them and cultivate a network of close, emotionally fulfilling ties with neighbours, friends or other local relatives, which enables them to make the best of their situation."
Assuming new roles
While good neighbourly or social contacts enable these senior citizens to cope with their more immediate, day-to-day needs immersing themselves in some religious activity, social work or pursuing some sport or hobby enables them to reinvent themselves in more meaningful roles. Spiritual, social or leisure activities equip them to chase away their post-retirement, empty-nest blues.
Around the time that Mina Singh's husband retired from the IAF in the early eighties, their son also left to chart out his future in the USA. That meant a sudden shift in lifestyle but what has kept her from falling into the mould of a self-pitying, complaining matron or letting the wave of emptiness overwhelm her are her positive attitude and the ability to reach out to others. Sometime ago, she learnt and started practising an alternative system of healing called Sujok, through which she tried curing friends and acquaintances of common ailments.
An abiding interest or hobby can certainly become the raison d' etre for retired parents, who suddenly have time hanging heavy on their hands. As in the case of I. J. Singh and his wife Surjit, whose daughter is based in Singapore while the son has chosen to carve out a career in Sydney, Australia. This couple shares a passion for travelling and what with their kids having taken wings, this globe-trotting couple too takes a flight to some or the other destination. "Besides, my husband enjoys playing cards. So we are regulars at the Central Club," informs Surjit.
Alone, not lonely
Whatever be the activities these parents keep themselves busy with or the bonds they nurture, the essence of the matter is that the term family, defined by Burgess and Locke as "a group of persons united by the ties of marriage, blood, adoption, consisting of a single household, interacting and inter-communicating with each other in their respective social roles of husband and wife, mother and father, son and daughter, brother and sister, creating a common culture", embraces a broader meaning in their case.
Though some may argue that surrogate families, cultivated out of compulsion or choice, can only serve as a consolation and not as a substitute for the blood bonds, the ground reality is that even in the midst of kith and kin an aged person may not get love, care and attention. And the expectations in a blood relationship may be far greater and more difficult to meet than those in ties forged by choice.
Thus, being alone needn't necessarily mean being lonely. And an empty nest needn't always spell emptiness or morbidity. That is, if one has the ability to energise one's existence with bonds born out of cohabitation or coexistence. The idea is to bask in sunshine in the evening of their life. It hardly matters if it is surrogate bonds that enliven their life and light up the twilight years!


Bonded existence!
THE bonds that aged people or parents with an empty nest enjoy or cultivate can be categorised into a few broad types. The categories are not necessarily exclusive and can overlap.
Bonds of contract: These ties are for a given period and involve a monetary transaction e.g those with paying guests, tenants, household help, etc. These people may look after the aged out of sheer goodwill or because they too get extra facilities in return. For example, a landlord may let a paying guest make free telephone calls if the latter runs around to pay his bills.
Bonds of convenience: These need not always involve a monetary transaction but are mutually beneficial e.g young couples may look after aged neighbours in times of illness while the latter may babysit for the former.
Bonds of connection: These include relatives who may be directly related by blood or indirectly through marriage. Even people belonging to the same caste or class come in this category. They may care for elderly relatives living alone out of genuine concern or do so to keep up a social face, as in those governed by the thought: Biradari kya kahegi.
Bonds of sharing: These essentially include friends or other community members with whom a common interest or cause is shared. For example, when the children of family friends play the role of one's own kids in their absence. Or it could be kitty members or club friends getting together for festivals and birthdays.