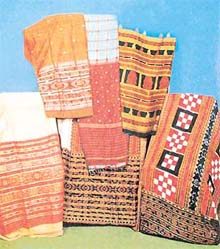 Many of India's textile traditions are dying a slow death
Shanghvi's father was associated with textiles and she grew up watching the business. Quite early on, she felt the need to recognise and preserve the textile heritage. And her efforts helped identify arts that were dying a slow death. Focussed on their revival, her studio displays some of the richest and most colourful fabrics and unique saris, now patronised only by the upper crust.
And those arts that she cannot preserve, Shanghvi documents with rigour. "If I document, someone else can take up the work. Without others' involvement it will be impossible for me to do this alone. I need the craftsmen and the designers to continue the tradition," she says.
Textile history is replete with royal patronage. The royals are no longer around but fashion designers can work with surviving artisans to recreate the magic of the old and also preserve the techniques.
Shanghvi has identified nearly 159 sari-weaving techniques; and there could be more. "I want to put on record the various weaving techniques. A system has to be followed in toto for it to survive. Unless the same pattern is followed in making the sari or fabric, it will lose its meaning. If one weaver is using a 'Z- twist' or combining it with an 'X-twist' there is a reason for it."
Few female garments hold as much mystery and allure as the Indian sari. A well-draped beautiful sari has always made heads turn. In the diverse Indian regions, cultures and customs, women of various communities wear different types of saris made of many kinds of fabric.
As a solution to revive the dying arts, Shanghvi feels that they should patronised again. "Weavers too have to survive, and will go where their craft finds support," she points out. Leading designers are well-equipped to take on the job as they have patrons from among the elite, she feels.
"Some are already working successfully towards this. Martand Singh, Director of INTACH (Indian National Trust for Art, Culture and Heritage) recently held khadi shows all over the country. Rahul Jain of Delhi is also working on the famed Banarsi brocade. Meera Mehta is working on reviving the Paithani Shalu."
There's hardly a stone she has left unturned in pursuit of her mission. "I have tried to create as much awareness as I can through special programmes on textile appreciation in colleges like SNDT (Mumbai) and NIFT (Delhi). We need sponsors and a human resources core management team to continue the process."
Has computerisation helped or forced some workers out of jobs? "No matter how sophisticated one gets, certain processes have to be done by hand. Even if someone makes computer designs, it's expensive. One has to maintain the buyer-seller ratio. The weavers still need to survive; they should get good wages. If they get more money working in the fields or in a factory, why should they weave saris? One cannot expect weavers to keep up a rich tradition on empty stomachs!"
Where does the sari stand today? Shanghvi's verdict: "The future is bleak. It is going the Kimono (Japanese traditional dress) way. One has to change with the changing times and for everyday wear, the sari is getting cumbersome. It is not a practical option. Today, one wears a sari only on special occasions."
Despite such dire predictions, the sari is still a magical garment and it will probably survive the odds. And if there were more women like Bela Shanghvi, it could have a bright future. WFS