But the report also grudgingly admits that smoking has been linked to cinema "ever since the cigar-chomping and pipe-puffing movie moguls first set foot in Hollywood." It adds that the yesteryear heart-throb, Humphrey Bogart "stole almost every scene in Casablanca as he conducted his love affair with Ingrid Bergman over on ashtray!"
Lucky again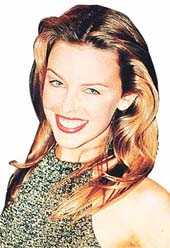 Kylie Minogue: Songs of success
Fifteen years ago, when she first burst upon the scene with her debut, I should Be So Lucky, music lovers were stunned. It hit the No. 1 spot and stayed there for weeks.
For the next three years, was no stopping Kylie Minogue. A string of smash singles like Loco-motion, roles in films and TV most notable among them being Neighbours.
That was from 1987 to 1992. But then the Australian star disappeared from the charts and most of her work flopped in the West.
A decade later Kylie is back ó and how! Her latest album Fever powered by the perfect single Canít Get You Out Of My Head has made her the number one entertainer worldwide all over again.
Her catchy rhythms, steady beats and a husky voice have turned Kyle into a megastar all over again. America which had shunned her music as appealing mostly to the gay community is welcoming her back passionately.
And Hollywood is falling in line with juicy offers for the 36-year-old star whose eighties album title ó I Should Be So Lucky ó seems to be coming eerily true.
No jokes, heís 99
He has been called "the longest running one man show in the history of entertainment." And as Bob Hope turned 99 recently, he still displays the vitality and sense of humour of a man one fourth his age.
The first man to call on him on his birthday was life-long pal, another legend, Marlon Brando who told him that finally he was old. "Old?" retorted Bob. "So you too have been fooled by my make-up!"
Later in the day, when a reporter asked him why he didnít think of retiring and enjoying his golden years going out camping and fishing, the comedian told her, "Fish donít applaud!"
He also informed her that in all his years, he had never missed a show because of sickness. "No matter how sick of me the studios got I still showed up!"
Right now, he says, he has no plans to retire and is planning his next decade. But he will now on be selective about the stand-up comic TV appearances. He had been travelling so much that he says, "My children and grandchildren saw so little of me that whenever I come home they think Iím the electricity metre man!"
Basic magnetism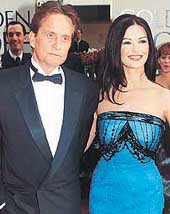 Michael Douglas: Ladiesí man
He may have come down a notch or two in popularity ratings after a couple of flops, but Michael Douglas continues to be an all-time favourite of all his leading ladies.
Melanie Graffith, who starred opposite him in Shining Through call him "the dream of every woman" and Daryl Hannah who acted against him in Wall Street has still not got him off her mind.
His Fatal Attraction co-star, Glenn close, who delivered such a nerve-chilling performance, says, "Iíve never felt so wild, so abandoned as I did when I was with him."
Sharon Stone, who did the stunning film Basic Instinct with Douglas says, "Every woman senses there is an air of excitement and violence about Michael."
Kathleen Turner, his co-star in Romancing The Stone claims, "He exudes power. Heís hungry, ruthless and he simply takes my breath away."
No wonder Mikey finds women pursuing him ceaselessly despite him being well past the 50 mark.
Green revolution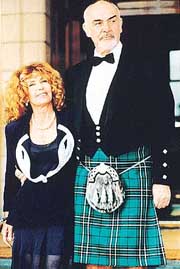 Connery with wife: Natureís man
Hollywood is going green and ecology enthusiasts like Gwenth Paltrow, Russel Crowe, Sean Connery, Winona Ryder and pop star Sting have ushered in a green awareness. Celebrities in Beverly Hills are going in for a jungle-style landscaping.
Paltrow has transformed her sprawling ten-acre garden into a kind of a bird sanctuary with a small artificial lake and a waterfall. Winona Ryder too, has got her Bel Air garden ripped up and is replacing it with a moat, bridge and three waterfalls.
Michael Jackson, of course, has gone a step further and has made his 80-acre farmhouse into a mini Amazon rain forest complete with wildlife ranging from exotic birds, monkeys, two baby elephants and a deer.
All of which must have come as great news for Sting who recently came out of the South American rain forests to accept an honorary doctorate from the Northumbria University in New Castle as a recognition for his work in the Amazon.
Now he is persuading more stars to join his crusade and help the cause of the environment. Many, including Lisa Kudrow (Friends). Denzel Washington and Clint Eastwood, have agreed to chip in and spread awareness by not charging for ads on environment ó a trend started by Sean Connery in Medicine Man, the powerful film on the Amazonian rain forests.
Fit Britt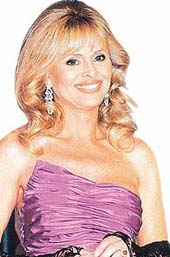 Britt Ekland: Fitting the beauty bill
Many of the current Hollywood actresses like Jennifer Lopez, Shannen Doherty and Meg Ryan know her just as the owner of one of Hollywoodís best gyms where they go for an occasional workout.
What they perhaps donít know is that the glamorous owner-instructor was a star when they were all in their nappies.
One look at her and it would be impossible to say that Britt Ekland is 48. But the stunning Swedish blonde who married the late Peter Sellers in the seventies and later wowed Rod Stewart has things worked out well and good.
Though there may not be any movie offers coming, Britt is on a financial roll because of her gym and fitness videos which combine exercises with yoga and ballet.
"As I exercise every day, Iíve got more energy than I had 20 years ago," she says and adds, "My skin is better because my circulation is good and I cope better with the stress."
But she also feels that turning completely vegetarian has helped her maintain her drop-dead looks. She seldom goes for facial or body toning which she used to earlier.
"Iím fitter and healthier so I donít need to work so habitually hard on my looks," says Britt whose video is doing the kind of sales which only Jane Fondaís did.
ó Newsmen Features