Sunday, September 15, 2002

Ranga's Toon Tales
Vyacheslav Kebich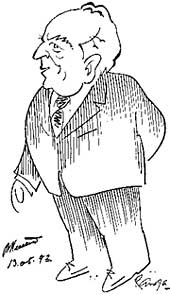 THE Prime Minister of Belarus, one of the states of erstwhile Soviet Union, Vyacheslav Kebich was in Delhi some time back to exchange views and enter into bilateral treaties with India in the fields of culture and industry.
Kebich has been in the forefront in ushering in the era of market economy in his country. He has won plaudits from his countrymen in evolving a progressive foreign policy. In his own country he also liberalised many public institutions which were earlier under the central administration and gave them the autonomy to administer themselves.
A graduate in mechanical engineering from Minsk, Kebich won several awards for his outstanding performance in his long career as an engineer. These achievements brought him into political limelight and in 1990 he became the chairman of Belarus council of ministers. During his stay in Delhi he met the leaders of the government and acquainted himself with its functioning. There was no strict protocol to meet him. He was happy to get his picture made and signed it.