FACE TO FACE


'For me, social work is not a short cut to fame'
Nalini Ranjan
WHEN Mrs Ranjeet Kaur lost her husband and elder son during the 1984 Sikh riots she was inconsolable. Her grief knew no bounds. But with faith in the Almighty and a determination to share this grief with others she took to social work in a big way. Day in and day out she strove selflessly to bring succour to the deprived.
Rape accused SI reinstated
Ghaziabad, September 16
Resentment prevails among residents of Babugarh as the Sub Inspector of the local police station, Jeeva Ram Yadav, who was sent to the Police Lines following allegation that he and other cops gangraped a Harijan woman inside the station, has been given a clean chit in a departmental inquiry.
Work on mini secretariat complex in low gear
Jhajjar, September 16
The completion of the mini secretariat complex at the district headquarters here is proving to be quite a tough task for the district administration. The project, which was originally scheduled to be completed in 1999, has been progressing at a snail's pace.


The incomplete building of the mini secretariat complex on which work has recently resumed after a gap of more than two years.
Karunakara Guru's birth anniversary celebrated
New Delhi, September 16
The 76th Janmadina Poojitha Samarpana of Navajyothi Shree Karunakara Guru, the founder of Santigiri Ashram, was celebrated in a befitting way by the devotees here. The vision of the Guru, who merged with the 'Adi Sankalpa' on May 6, 1999, holds good in the wake of widespread tension all over the world.

His Holiness Swami Paripoorna Jana Thapaswi with devotees in New Delhi.
Bansi calls for CBI probe into ex-CMs' assets
Sonepat, September 16
Haryana Vikas Party (HVP) supremo and former Chief Minister Bansi Lal has demanded a CBI probe into the report about the amassing of wealth through objectionable means by Chief Minister Om Parkash Chautala, HPCC president and former Chief Minister Bhajan Lal and him so that the people could know who was actually involved in such a looting.
'Bundh' withstood rain fury, crops didn't: DC
Sonepat, September 16
After two days of playing havoc, the water level in the Yamuna started receding last evening, giving a relief to the authorities. The Deputy Commissioner, Mr S. N. Roy, told mediapersons here today that all the stone studs constructed near Bega and Memarpur villages to check the erosion of land on the Haryana side had stood intact during the rains and the release of water from the Tajewala Headworks.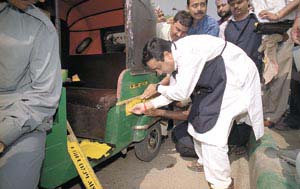 Delhi Transport Minister Ajay Maken painting the telephone number for registering complaints against TSR drivers on an autorickshaw as part of the ongoing drive in the Capital on Monday. — Tribune Photo Mukesh Aggarwal.
'Many schemes only on paper'
Rohtak, September 16
There are several government schemes and projects that are confined to only the official records, including the 20-point programme. This was stated by Mr Vijay Goel, Minister of State in the Prime Minister's Office. He was speaking as the chief guest in the Akhil Bharatiya Aggarwal Sammelan, a state-level conference of members of the Aggarwal community, organised here on Sunday afternoon.
DELHI DIGEST
Delhi cops to get training in disaster management
New Delhi, September 16
A team of officers of the Civil Defence and Home Guards, led by their Director-General N. Vohra, had a detailed interaction with the Delhi Police Commissioner and other senior officers at the Police Headquarters today.
NCR BRIEFS
Credit cards given to 531 farmers
Rohtak, September 16
Mr M. Ayub, General Manager, Reserve Bank of India, and Mr Ashok Yadav, Deputy Commissioner, distributed 531 credit cards, worth Rs 4.5 crore, among farmers of Rohtak and Jhajjar districts during a function organised by the Haryana Kshetriya Gramin Bank (HKGB) here this afternoon.