Monday, September 23, 2002
Feature
We are watching!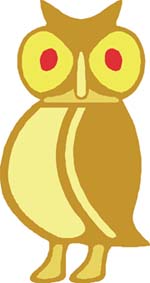 INDIAN media is vibrant and lively, yet journalists in the country are often seen as the handmaiden of the government or a law unto themselves or excessively racket-prone.
For over a year, media ethics or its absence thereof in India has been monitored by a Web site called thehoot.org.
The site was set up in March 2001. Hits have climbed slowly from nothing to 17,000 a week at the beginning of this year; later touching 21,000 hits a week. "I feel strongly that media matters in a democracy, and needs to be kept on course by people from within," says New Delhi-based media critic Sevanti Ninan, who has played a key role in putting up thehoot.org site. As the site explains: "This portal is the outcome of the concern felt by a group of practicing journalists at some recent trends in journalism in this part of the world." Poor payments from small and medium papers and a lack of ethics are only some of the dilemmas facing the media world in a country where at least 5,000 newspapers are published in many languages. The Website also sees itself as an attempt to revive a concern for media ethics, restore focus on development in the subcontinent, and preserve press freedom. What prompted the setting up of this site?
"The fact that there was no forum in India where you could honestly criticise both the print and other media, and the fact that such criticism was desperately needed. Journals cannot respond as fast as a Website can," Ninan told IANS. The site, however, recently faced pressures for its survival. Says Ninan, in an open letter to supporters: "(You) have supported the idea over the past year, without losing too much sleep over it. But this missive is to ask for more active support, if The Hoot is to survive." The Hoot, to quote Ninan, "started purely out of a felt need to have a forum to discuss media practice.
It was started through the Media Foundation run by veteran journalist B.G. Verghese and with moral or initial financial support from Shailaja Bajpai, Mannika Chopra and Shubra Gupta, all media critics based in New Delhi. "There was no long term funding in sight. But we got a small grant from UNSECO and got going. Word about it has spread and the number of those using it has grown. There definitely is not anything else of this range in the subcontinent," says Ninan. She says the total investment crossed Rs1,75,000 or thereabouts, with no staff, or office or budget. "It has been partly financed out of journalist contributions. Our business plan, if you can call it that, is that 200 journalists paying Rs.100 a month can ensure its survival. But only 10 have responded!"
Ninan has herself covered television since 1986, beginning with The Indian Express and going on to the Hindu.
Recently thehoot.org held a special debate on the possibilities of India opening up community radio broadcasting to non-profit groups. Updates on the site critically reviewed the relationship between late industrialist Dhirubhai Ambani and the media, differing perspectives on the issue of foreign direct investment, and the prime ministerial response to foreign reporting. Other topics covered include press freedom in Pakistan, covering land alienation in Jharkhand and censoring peace. One study offers a

"systematic survey" of the coverage given by Bangalore-based newspapers in Kannada and English to the violence in Gujarat.
The Hoot's self-described goal is: "Watching media in the subcontinent. The more the media matters, the more we must track what it does." — IANS