Clicking job portals via newspapers
Peeyush Agnihotri
RIGHT from the ones for whom seeking a job has become a full time vocation to those disgruntled skilled hands that want to hop-skip to some other company, this is a convergence with a difference. The new medium is converging with the traditional one in order to improve the reach and attract more customers. The Internet, it was said, would pip newspapers and magazines in near future. Then that might be a far-fetched talk. Right now, Web-based job sites are turning towards newspapers to help them reach their target group. And the print medium is not complaining. Neither are the portals.

Turning a blind eye towards Braille software
Frederick Noronha
HE created a technology to translate and print books in Braille over a decade ago but Vasant Bhat's invention that can open a whole new world for the blind seems to have few takers. Bhat, 63, got an Indian patent for his invention a decade ago. In September 1991, using his knowledge of computing, typography and a background in printing, Bhat had put together an 'improved process of composing and printing' in Braille script.

Mail care
Nalin K. Rai
E-MAIL has come to establish itself as a means of communication that operates in the domain of the virtual world and ensures almost cent per cent delivery to the person. The advent of e-mail has meant that art of writing and expressing the command over the language, as also the attempt on the part of the individual to be a lingiophile, has become a thing of the past.

E-cash to take care of empty wallet
Gunmala Suri
WHEN shopping in Singapore we pay Singapore dollars and in Europe we pay Euros. Get ready to pay in e-cash now. E-cash is relatively a recent entrant in the complex world of e-commerce. Very convenient and secure, it can be an alternative to traditional methods of online payments such as credit cards and even online transactions.

In the memory of the PC
Sukpreet Singh Giani
FOR human beings, memory plays a critical role in the retention and retrieval of experiences and this experiences influences subsequent behaviour. The same is true for the computer memory in order to have a "good behaviour" from the system. There are numerous ways through which the computer memory could be classified:

Windows in safe mode
Sarabjeet Singh Kanwal
WHILE Windows is a powerful and user-friendly operating system, there are times when it becomes difficult to handle. On installing a new software program you may face some strange results like: no response from new hardware or hanging of the system. Installation of new hardware drivers may also result in a same way. A device driver is the software that Windows uses to interact with a piece of hardware, such as a printer or scanner.

IT WIT
by Sandeep Joshi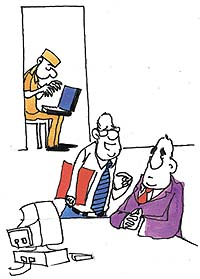 Don't ring the bell for this peon. E-mail him at peon@xyzorg.com
PC prices sink, sales buoy
Manoj Kumar
WITH the slashing of computer and processor rates by market leaders, like Intel, Compaq and IBM over the past few days, the sale of PCs has picked up in the region. Sources in the market say the sale of personal computers (PCs) is better as compared to the previous year. The cut in price of PCs and processors by the brand leaders have further boosted the sale of assembled PCs, along with the branded ones.

Brats get busy with Net
Jayant Murty
YOU'RE sceptical about this new technology revolution in which everything is going digital. Is the Internet all it's said to be? The answer is yes! Here's why every parent should learn the ropes and help their family members go cyber.

We are watching!
INDIAN media is vibrant and lively, yet journalists in the country are often seen as the handmaiden of the government or a law unto themselves or excessively racket-prone. For over a year, media ethics or its absence thereof in India has been monitored by a Web site called thehoot.org.