BJP 'Gaon chalo abhiyan' may face farmers' ire
Delay in paddy MSP and procurement
Chandigarh, September 24
Inordinate delay in the announcement of the minimum support price for paddy and the failure of the official agencies to enter grain markets may force farmers "to put spanners" in the BJP's proposed "Gaon chalo abhiyan" scheduled to be inaugurated by the party's national chief, Mr Venkaiah Naidu, at Khanna on September 27.
Pherurai's kin approach Chief Secy
Mansa, September 24
Even as the police has been conducting raids at the dwellings of kin of former SSP, Gurcharan Singh Pherurai, to arrest him for the past many days, Mr Arvind Pal Singh Sandhu and Mrs Harjit Kaur, son-in-law and daughter of Pherurai, respectively, whose house was also raided by the police, have pleaded with the Chief Secretary to save them from any kind of harassment.


Residents of Monica's village shocked


Hoshiarpur, September 23
Residents of Chabewal, native village of Bollywood starlet Monica Bedi, who was arrested along with her husband Abu Salem, an underworld don, still cherish her image as a sweet, sober and homely girl. They are in a state of disbelief over the relationship Monica had with Salem, a prime accused in the Mumbai serial blasts.
SGPC warns govt on Noormahalias
Chandigarh, September 24
The SGPC today warned the Punjab Government that if it (government) allowed the Noormahalia sect headed by Ashutosh to hold a congregation at Jalandhar on September 26, SGPC executive members will hold a protest there.


PSEB to impose power cuts again
Patiala, September 24
The Punjab State Electricity Board has started feeling the pinch after the withdrawal of the monsoon with power cuts being anticipated on both urban and commercial consumers in the coming days with the tripping of a unit at the Bathinda thermal plant.
Edit page: Free power benefits rich farmers mostly
THE issue of free supply of electricity for agriculture is a hot issue in Punjab these days. The Akali Dal (Badal) was for it and Mr Badal promptly implemented the commitment made on the eve of the 1997 Assembly elections immediately after he became Chief Minister of Punjab for the third time. What has been the experience?

Shatabdi finds few takers
Bathinda, September 24
The Shatabdi Express chugged into the railway station here last night with just 25 passengers in its six airconditioned coaches. This tally was among the lowest since its launch on August 19.
Vigilance Dept to probe bank loan scam
Ropar, September 24
The Vigilance Department will conduct an inquiry into the bank loan scam in which illiterate employees of the Guru Gobind Singh Super Thermal Plant were allegedly duped by bank officials and agents.
Chemists observe strike
Fatehgarh Sahib, September 24
Chemists in the district observed a strike and closed shops today in protest against the alleged search of a chemist and misbehaviour by the Bassi Pathana police in the absence of the drug inspector.
Pak SGPC sends Gurpurb invitations
Amritsar, September 24
Even as the Indian Government has declined to allow any Sikh devotee to visit Sikh shrines in Pakistan due to the snapping of rail, road and air links with the neighbouring country, Mr Sham Singh, co-chairman, Pakistan Sikh Gurdwara Prabandhak Committee, has sent invitations to various organisations in India to participate in the Gurpurb of Guru Nanak Dev in November.
5 years' RI for ex-MC chief, 3 others
Mansa, September 24
Mr Harbans Lal, Additional District and Sessions Judge, Mansa, yesterday convicted four persons, including Pandit Brahmdev, former president, Bareta Municipal Council, and sentenced them to five years RI and imposed a fine of Rs 1,000 each on them. In case of default in payment of the fine, they would have to undergo two months RI under Section 304(Part II) of the IPC.
Doctor to probe complaint against self !
Bathinda, September 24
In an interesting case, Dr V.K. Kaushal, District Immunisation Officer, local Civil Hospital, against whom a complaint was lodged for his negligence in a polio case of Maur Mandi town, has been asked to probe the same complaint by the Civil Surgeon, Dr S.K. Goyal.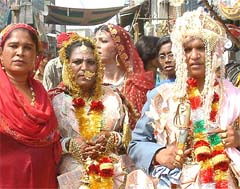 Eunuchs enter wedlock
Patti, (Amritsar) September 24
Do eunuchs, without whom no wedding celebrations are considered to be complete, also solemnise their own marriage? The centenary celebrations held in this border town, where eunuchs paid rich tributes to their ancestors today, witnessed marriage in which the bride and the bridegroom were both eunuchs.

Unique marriage solemnised at the border town of Patti in Amritsar district on Tuesday. — Photo Rajiv Sharma

Forward Bloc to expand base
Ropar, September 24
The All-India Forward Bloc will hold a three-day meeting of the Central Secretariat and the Central Committee of the party for the first time in its history from September 27 here.
Zila Parishad chiefs' elections from Oct 25
Chandigarh, September 24
The elections of chairpersons and vice-chairpersons of panchayat samities and Zila Parishads in Punjab have been postponed to October 25. These will be now held between October 25 and November 18. Earlier, these were to be held from September 25.
MC nod to developing illegal colonies
Jalandhar, September 24
In a step which has raised many an eyebrow and may put an additional burden of about Rs 100 crore on the cash-strapped Jalandhar Municipal Corporation, the House of the civic body has finally given its unconditional nod to the development of about 200 illegal colonies set up in and around the city by colonisers.


50-yr-old killed by son
Amritsar, September 24
Irked over the extra-marital affair of his mother, a son along with her son-in-law, allegedly killed her here last evening. According to the SP (City-II), Jeeto, 50, was reportedly living with an unidentified man as a tenant at Dashmesh Avenue near Majitha bypass.
Newly wed sisters 'harassed' for dowry
Talwandi Sabo, September 24
Beant Kaur (22) and Chinder Kaur (19), two sisters who were married to two brothers, Harjinder Singh and Harminder Singh, respectively, of Jagaram Tirath village were today admitted to the local Civil Hospital after they were allegedly tortured by their husbands for bringing inadequate dowry within 72 hours of their marriage.
Fake certificate lands ex-Political Secy in jail
Gurdaspur, September 24
In a shocking incident a Political Secretary of former minister has been arrested on charges of possessing a fake certificate of Class X on the basis of which he had got a loan under the Jawahar Rozgar Yojna.
Constable held for smuggling narcotics
Mansa, September 24
Yadwinder Singh, a Punjab police constable, posted in this district, was arrested by the police last night for his alleged involvement in the smuggling of narcotics. About 5 kg of poppy husk has been recovered from his possession.
One arrested for abducting girl
Jalandhar, September 24
The district police has arrested one person for allegedly abducting a minor girl from near her school three months ago and restored the girl to her parents.