Ludhiana, September 25
Dr Harbans Lal, State Minister for Forests, Food and Supply Punjab, has reiterated that the state government is committed to setting up memorials in memory of martyrs who had laid down their lives while performing their duties in safeguarding the frontiers of the country.

The Forest Minister, Dr Harbans Lal, lays the foundation stone for the Shaheed Memorial at Sudhar village on Wednesday. — Photo IV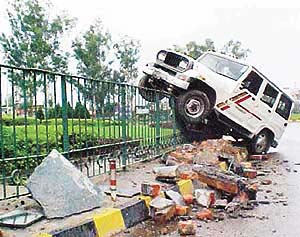 An overspeeding jeep which rammed into the railings of a roundabout near the Jalandhar bypass on Wednesday. — Photo IV

Preparations on for mela
Ludhiana, September 25
The Prof Mohan Singh Memorial Foundation has constituted a committee comprising Mr Parminder Singh, Mr Satvir Singh, folk singer Mohmaad Siddique, Prof. Gurbhajan Gill, Mr Harjit Singh Bedi, Principal Bharpoor Singh and Mr Gurdyal Singh Ramta of Denmark to shortlist distinguished personalities to be honoured on the 24th Bhai Mohan Singh Mela, said the foundation President, Mr Pragat Singh Grewal.

YC activists plant saplings
Ludhiana, September 25
The Congress and Youth Congress activists organised a function to observe vanmahotsava in the Transport Nagar area here and planted saplings on this occasion. Mr Gurinder Singh Grewal, general secretary, Punjab Youth Congress and Mr Gurbhej Singh Chhabra, Member, PPCC, among others, were present on the occasion.

READERS WRITE
Losing sleep over elusive scholarships
WE the students of Guru Nanak Engineering College are a frustrated lot. We receive scholarships under the post-Matric scholarships scheme to Scheduled Castes/Tribes students Degree session 2001 to 2002, but for the year 2001-2002, we have not received the scholarships. We are being made to run from one department to another but no scholarshp is in sight.
Mela 'business'

Encroachment woes

Gujarat killings

Support protest