M A I N N E W S
6 killed in attack on Pak Christian NGO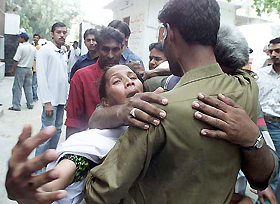 Relatives mourn the death of a worker at a Christian organisation, killed in an attack by unknown gunmen in Karachi on Wednesday.
— Reuters photo
Islamabad, September 25
Six persons were killed and four others injured when two gunmen entered the offices of a Christian welfare organisation in Karachi and fired at them.
The shooting occurred on the third-floor offices of Idara-e-Amn-o-Insaaf (institute for peace and justice), a Pakistani Christian charity, official news agency APP said here. Those killed were three Pakistani Christians and three Muslims, it said, quoting police officials.
Four others were injured in the shooting spree in which, a media report said, the victims were tied to chairs with their hands behind their backs before being shot point-blank in the head.
One of the injured was an office assistant who was tied and beaten up by the attackers but not shot. After the men left, he freed himself and ran to a nearby office to call the police, the officials said.
The police surrounded the 13-storey building in the central business district of Karachi and tried to flush out the militants.
Pakistani Information Minister Nisar Memon condemned the attack, saying that those who carried it out were "enemies of Pakistan".
Father Archie d'Souza, personal assistant to the Archbishop of Karachi, said Indare-e-Amn-o-Insaaf was a Christian organisation. "It's a sort of NGO. It's Pakistan-based and run by Pakistani Christians. It's for justice and peace," he said. PTI, Reuters