THE TRIBUNE MAGAZINES
On alternate Mondays

On Sundays
On Saturdays

IN PASSING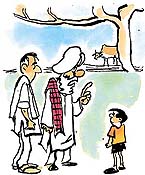 If you want to become a farmer, then you must remember P is for politician, P for power, P for paddy, P for postponement and P for poor farmer...!
by Sandeep Joshi
Bonus for farmers in offing
New Delhi, September 27
The Centre is likely to announce relief for farmers in the form of bonus, waiver of interest for a year on loans and availability of foodgrains at below poverty line (BPL) prices. Sources said the Commission on Agricultural Cost and Prices (CACP) has suggested a bonus of Rs 20 per quintal over the MSP for paddy in view of the drought conditions.
MSP: Cong, SAD in tight spot
New Delhi, September 27
There is widespread consternation in both the Congress-ruled Punjab and the Opposition SAD with the Vajpayee government retaining the minimum support price (MSP) of paddy at Rs 530 per quintal.
No representation from Punjab, Badal told
New Delhi, September 27
Prime Minister Atal Behari Vajpayee today assured SAD chief and former Punjab Chief Minister Parkash Singh Badal that the Centre would compensate the farmers either in the form of bonus or in some way.
TRIBUNE SPECIAL
Organ sale an old trade in Amritsar
Amritsar, September 27
Much before the enactment of the Transplantation of Human Organs Act, 1994, which bans the sale of vital human organs, the trade was very much prevalent in this city with the connivance of the doctors concerned.
Stray incidents mark bandh
September 27, 2002

Army deployed in Gujarat
September 26, 2002

Ultras storm Gujarat temple, kill 30
September 25, 2002

Ultras kill cop, take 3 hostage on poll eve
September 24, 2002

Diplomatic efforts to bring back Abu Salem
September 23, 2002

Efforts on for Abuís extradition
September 22, 2002

Salem nabbed in Lisbon
September 21, 2002

Militants attack school
September 20, 2002

Return presidential reference, pleads EC
September 19, 2002

Grenade attack on Cong HQ
September 18, 2002