Sunday, September 29, 2002, Chandigarh, India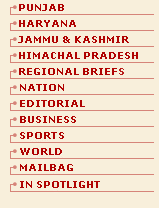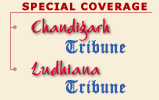 B U S I N E S S
Govt fails to maintain growth: Manmohan
New Delhi, September 28
The economic policies of the NDA Government came under heavy criticism from the Congress with former Finance Minister Manmohan Singh lashing out at the Centre for failing to carry out the growth momentum achieved during the previous Congress regime.
Global growth on track, says G7
Washington, September 28
Finance officials from the world's wealthiest nations said that global growth has slowed but should remain on track despite rising risks. "Economic growth in our countries is continuing, though at a more moderate pace than earlier this year,'' Finance Ministers and central bankers from the Group of Seven industrialised nations said yesterday.
WTO poses problems to SSI sector
A seminar on big theme of WTO regime was organised at Ludhiana which was presided over by Minister of Small Scale Industries. MP of the ruling party took every thing in his hands.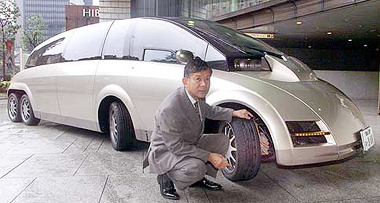 Professor Hiroshi Shimizu of Keio University poses next to the world's fastest electric vehicle named KAZ in Tokyo on Saturday. The 8-wheel drive vehicle, developed by Keio University, can reach speeds up to 311 km per hour while running entirely on lightweight lithium batteries, emitting less than one third of carbon dioxide of a conventional car. — Reuters
SBP honours toppers
Chandigarh, September 28
State Bank of Patiala, honoured the four toppers of 10th class examination conducted by Punjab School Education Board in March 2002 by awarding trophies and cash prizes.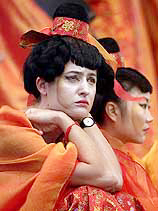 A German entertainer dressed in a traditional Chinese costume watches the opening ceremony of an exhibition of German products in Beijing on Saturday. — Reuters

Rise in kerosene, LPG prices in a month
September 28, 2002

India, Afghanistan trade pact soon
September 27, 2002

TRAI may hike monthly rental, local call rates
September 26, 2002

Rising oil prices hit Asia's growth
September 25, 2002

ONGC to buy HPCL stake in MRPL
September 24, 2002

Excellent time to invest in real estate
September 23, 2002

India seeks concessional pricing of oil
September 22, 2002

HFCL to disinvest subsidiary
September 21, 2002

Oil close to year-high as OPEC extends curbs
September 20, 2002

10th Plan to have state-wise growth targets
September 19, 2002