Sunday, September 29, 2002
Books
Differentiation holds the key to survival
Chandra Mohan
Differentiate or Die
by Jack Trout. East West Books (Madras). Hardback. Pages 236. Rs 350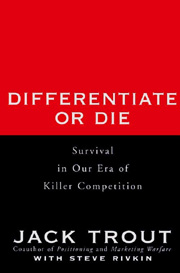 WITH some 60,000 new products flooding the market every year the customer is faced by an increasingly bewildering range of options. Education, TV and now the Internet have made today's customer more savvy and more demanding. India has also got a glimpse of this world of endless choice in the last decade.
Surviving in a world of cut-throat competition is a question which haunts every producer today. Past success is no guarantee; yesterday's icons are falling every day. It is no surprise that out of 89 per cent customers who expressed satisfaction with their car, 67 per cent said they would switch to another make next time. Customer loyalty can no longer be taken for granted; it must be re-earned every time. The difficult part is that:
Like golf, you have to play from wherever the ball lies.

Quality and customer orientation are taken for granted; they are no longer differentiating factors.

In an age of information overload, catching the customer's attention is difficult.
In this jungle, differentiation alone holds the key to survival. Trout handles the topic with the touch of a maestro. He feels that the present-day customers tend to lose focus and feel insecure, perceive monetary functional, physical, social or psychological risks and hate confusion.