Viewer amnesia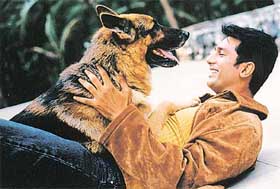 Avinash IPS: Thumbs down
Whatever happened to slick action thrillers on TV? With the sole exception of CID on Sony, most others seem to be suffering from severe viewer apathy.
Take the case of Krishna-Arjun on Star Plus. Ever since it got its new name and a new format it seems to have lost out in the popularity ratings. Krishna Sharma and her new partner Arjun have not succeeded in making a hit team a la Remington Steele.
Though the new series is a complete break from Krishna Sharma C.A., it has failed to enthuse viewers despite being fast-paced and stylised.
The fate of the other crime-based serial Avinash IPS on Star Plus is no better. In fact, it never picked up in the first place and viewer interest has been extremely low. It revolves around a quick-thinking cop whose very name sends shivers down the spine of rogues. No lawbreaker can escape him and no pardons are granted. No case is left unsolved.
Whether it is the kidnap of a scientist for a secret formula or a jewel thief on the run or even a bank robbery ó lifeís full of challenges for Avinash IPS. But despite a good storyline, the serial has been sinking without a trace proving once again that in the saas-bahu deluge nothing can survive.
The fashionable week
It was the mother of all fashion shows ó 48 top-of-the-line models displaying over 1,000 dresses of 53 leading designers of India. For the clotheshorse, the India Fashion Week set the trend for whatís going to be hip-hop.
The event which was by invitation-only showcased the Pret-a-Porter and Diffusion collections of some of Indiaís top designers. For those who could not watch the extravaganza live can now watch it on Star World every Sunday at 8 p.m.
This year most designers returned to soft, feminine styles, to an almost innocent look. Empire lines with ruffles, long, full, skirts, floaty fabrics, lace layered with handmade and patch work were the mainstay.
Viewers will not only witness the latest collections from Indiaís leading designers, but also get to see Indiaís best ó models, make-up trends, hairstyles and accessories for the upcoming season.
So all you clotheshorses, get set for some exciting viewing. Haute couture never got more exciting.
Food for thought
This is one show Zee TV can be particularly proud. Unlike its other programming, it has never let the channel down in terms of viewership. And its popularity cuts across age and sex barriers. But then, Khana Khazana has a lot to thank Sanjeev Kapoor for its shelf life.
The good news is that Khana Khazana is back and itís all spiced up. It has been relaunched in an all-new look every Sunday at 1.30 pm. Kapoor, who has been on the show since inception, will once again share his cooking secrets with viewers.
The show has been reintroduced in a new format with new sets, new graphics and complete new recipes. Each episode has a theme like kiddie party, vrat ka khana, low-calorie food and more.
The new shows have a guest segment in which a prominent celebrity is invited on the set, and interacts with the chef and helps him prepare the recipe.
Watch master chef, Sanjeev Kapoor, at his culinary best in his brand new kitchen Sunday after Sunday.
Sheikh of stars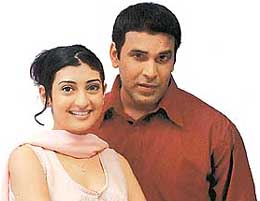 Sheikh with co-star in Virasat: Star in demand
The archetypal serial hero of the new millennium epitomises the profile of todayís successful young man. Self-employed, rich and oozing good taste. Vaquar Sheikh is one such star.
He hit the high road to success after he modelled for brands like Charag Din shirts, Arrow, Royal Challenge and many more. The ads worked wonders for his career and sure got him places ó the television studios for one.
On the small screen, his first big break came with Banegi Apni Baat where he got noticed for his easy style of acting. What followed was a deluge ó Chandrakanta, Jannat, Umeed, Heena, Shatranj. In fact, in the last five years, he has done the lead role in 23 serials across all the channels and is one of the most sought-after names in TV.
In his latest serial Virasat on Sahara TV, he plays Manav, the central character of the show. The eldest son of a family owns a flourishing textile and construction business. But he is soon cheated out of his business by a scheming uncle.
"I enjoy playing dramatic roles that test me as an actor," says Sheikh, who takes his acting very seriously. But he is quick to remind you that in real life he is not a grim or serious person. Says he, "I am a fun person. I enjoy every moment of my life." Of course, the moments spent in studios are the ones he enjoys the most!
Voyage of discovery
Eat an iceberg, swim with the sharks, go behind the scenes of a major motion picture studio. End September, kids can experience all of this and more on Popular Mechanics For Kids on Discovery at 10.30 am on September 29.
Teenage hosts Elisha and Tyler explore the world of science, technology and imagination that surrounds them. Based on the Popular Mechanics magazine, this programme will satisfy kidsí insatiable appetites for exploration and discovery and teach them some really cool things that even their parents donít know.
While Tyler and Elisha tease and torment each other, they still manage to learn a lot about the world around them ó and have fun doing it. From scooping up molten lava to driving a police car to playing goalie with a professional hockey player, they explore their world from land, sea and sky.
Kids can join these two young anchors to find out everything they didnít about the world around them.
Mukesh Khosla