Sunday, September 29, 2002
Lead Article
Star cuisine
ďAyeshaís pizzas are yummyĒ
EASY to imagine Jackie Shroff bashing up baddies or romancing heroines. But Jackie in a sparkling kitchen? Thatís a tough one. Believe it or not, thatís exactly what Jackie loves to do when at home. Cook. The macho actor loves to prepare at least one dish a day. In fact, going by his enthusiasm, youíd think that if he werenít a film star, he could well have been your neighbourhood chef, churning out mouth-watering dishes instead of films!


Jackieís mazaa do pyaza

Ingredients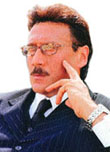 Onions 4 (finely chopped, lengthwise)
Garlic a few cloves (finely chopped)
Green chillies 2-4 (finely chopped)
Ginger 1" piece, jullienned
Curry leaves a few
Haldi powder 1 tsp
Tomatoes 2 (finely chopped)
Oil 1 tbsp
Salt to taste
Method: Heat the oil in a frying pan. Add the garlic, green chillies, ginger, curry leaves and haldi powder and fry for a few minutes. Now put in the onions and fry till brown. Turn the gas on simmer and with the spoon make a hole in the centre of the mixture. Put the tomatoes in this and slowly cover with the onion mixture. Cover and cook for a few minutes till the tomatoes are done. Serve hot with roti or pav.
He imbibed the art quite early in life. Living in a one-room chawl in Teen Bhatti, Mumbai, Jackie grew up watching his mum cook dal-subzi and was quite fascinated by her culinary skills. "Mumís subzis were fabulous. I would enjoy eating them with kadak pav. That and dal-chawal were my staple diet in childhood."
He also feasted on a regular dose of Dev Anand and Shammi Kapoor films, which he would sneak off to watch whenever he could. "I was a diehard fan of Dev Anand. I would watch his films and sing his songs to my girlfriends! In fact, even today I tend to imitate him in my song sequences."
That is why Jackie was thrilled to start his film career in Dev Anandís film Swami Dada. Though it was a minuscule role (that of a donís henchman), it fuelled in him a passion for acting. And with his smouldering good looks, it did not take long for him to graduate as Subhash Ghaií Hero! After that runway hit, there was no looking back.
Yet, despite climbing steadily to an enviable position in tinsel town, and shifting to a plush penthouse in Bandra, Jackie has still stuck to a simple diet. Following the fit-for-life regime, he starts off the day with seasonal fruits. This could be anything from papayas to apples. A habit heíd like his children, Tiger and Krishma, to follow. "Fruits are a healthy way of starting the day," he insists.
Before leaving home for shootings, itís a meal of dal, chawal and subzi. Jackieís favourite subzi is aloo. He makes this in a variety of ways ó with tomatoes, bhindi or onion. "This vegetable is like me, fitting nicely into any role and set-up," he laughs.
He cooks dals in a special way. The dal (moong, tur or masoor) is put in a pressure cooker. In the meantime he chops garlic, green chillies and mint leaves very finely. To this mixture he adds salt and lime juice and leaves it to marinate for a while. After the dal is cooked, he adds a little ghee and stirs in the mixture before eating.