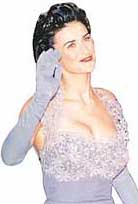 There's more to Moore
Ecology freak Demi Moore has ripped out the airconditioning in her house and has had solar heating and cooling along with a water purifier. The only household cleansing agent allowed is baking soda and only biodegradable laundry products are used. And anyone who wears perfumes is barred because of the number of the chemicals used in them. What next? Maybe Demi will quit Hollywood because raw film is made from innumerable chemicals as well!



Michelle makes up to the Press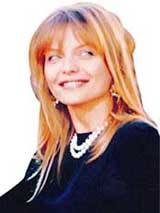 Michelle Pfieffer: Up close & personal with the Press
Michelle Pfieffer, one of Hollywood's most in-demand senior actresses has finally decided to shed her animosity to the Press and extend a hand of friendship. Interestingly, that decision coincided with the 10th birthday or her adopted bi-racial baby, Claudia Rose, when she threw a lavish party for the journos.
Her fight with the Press started a decade ago when some film journalists heckled her for becoming a single mother, dumping her first husband and marrying David Kelley, the maker of TV hit serial Picket Fences.
Though 10 years of bringing up Claudia Rose have taken their toll, it's been a labour of love, says the star of such major hits as The Fabulous Baker Boys, Up Close & Personal, One Fine Day and What Lies Beneath.
It's been a rollercoaster ride to stardom — a long way down the road for the woman who as a 14-year-old lied to get a job in a store selling jeans. With some of the biggest hits of recent times, life's been a song for Michelle.
High heal


Ben Kingsley: Reaching out to the stricken
Charity seems to be the current Hollywood fad. The dream city is in an expansive mood and many superstars have found touching and surprising ways to express their love for the stricken and the not-so-fortunate.
Charity is the key word in Hollywood. First Gene Wilder established a cancer centre in New York, raising over $ 5 million for the centre — named after his late wife Gilda.
Ben (Gandhi) Kengsley has founded an institute for alzheimer's disease in New York with his own money. Elizabeth Taylor has set up the American Foundation for AIDS Research in Los Angeles and has spent a fortune in research.
Now Paul Newman has rented an imposing castel in Country Wicklow, Ireland, for his children's charity project. He bought the castle $ 1.8 million and is spending a whopping $ 4.5 million to restore it to its original beauty. Charity sure is a reality in the dream world of Hollywood.
Diva of sizzlers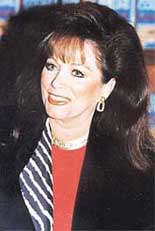 Jackie Collins: Diva of glamworld sizzlers
Put a liberal helping of success and sex, a pinch of violence, a dash of daring and what do you get? A Jackie Collins' novel. From 1969 the best-selling novelist has been churning out delicious Hollywood entertainers. Her new book Deadly Embrace too is a peep into the glamorous lives and loves of the rich and famous.
At 64, Collins is the queen of pulp literature, having sold well over 250 million books in 40 countries. All of her 17 novels have been 'New York Times' bestsellers. She credits this to the immense research she does. Her new book too is a publishers' blockbuster.
Where does she get all this information? "Hollywood comes to me and tells it all" reveals Jackie. And why not? She counts superstars as Harrison Ford, Al Pacino, Sean Connery, Elton John, Kim Basinger, Julia Roberts and many more as her close friends.
Says Collins, "People just love to gossip, they call me and tell me everything. I don't have to leave my house to find out what's going on." And that has been the case, ever since she wrote her first book in 1969 — The World Is full of Married Men.
Newsmen Features