Sunday, September 29, 2002

Ranga's Toon Tales
Hun Sen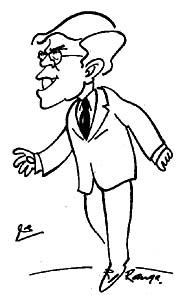 ONE of the youngest prime ministers of the world Hun Sen of Cambodia came to Delhi in 1990 on an official visit. A doctorate in political science, Hun Sen entered the foreign service in 1979 as Foreign Minister of Cambodia and became the Prime Minister in 1981.
During his short stay in Delhi, he came in contact with many Indian leaders with whom he exchanged views and formed cordial relationships. He also visited several historical places in Delhi before he signed a number of agreements, including some in the fields of culture and economics.
It was during this occasion that I happened to meet him with a sketch of his. He was grim but as soon as he saw his sketch a big smile lit his face and he readily signed on it — indeed a very simple signature dated October 8, 1990.