GLITZ & GLAMOUR
Funky no more
PEROXIDE blondes — brunettes with deep-dyed attitude — are painting the city mahogany brown, assertively. If you do not believe it, drive down to Sector 17, or any other shopping arcade in the city. Golden streaks, mischievously peeping out of dark tresses, dazzle you as pretty damsels gently pile up their hair in a bun, aware of the appreciating glances.
CHILLOUT ZONE
Getting ready for serious flirting
BHANGRA music's techno beats are drowned under excited shrieks as city guys in bicep-revealing t-shirts over swinging blue denims turn around to admire three damsels stepping out of a luxury car in front of Sector 10 DAV College for a quick bite.
TIP TOP
Mobile can often be a handicap
SHE had answered all the questions almost perfectly. Reposing before the cafeteria manager on a comfy sofa set in cream shirt teamed with formal trousers of matching hue, Radhu had told him everything she knew about the origin of coffee beans. Just when she was sure of getting the after-college job, the mobile rang. It was her mother asking about lunch. She replied and lost the opportunity.
VENUS SPEAKS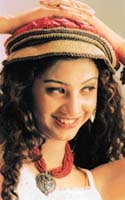 Starry feet
SHE reaches for the stars with her comely feet firm on the ground. That's why, perhaps, she takes real good care of them. "Am very particular about the softness of my feet," whispers model-cum-Panjab University student Karishma. "Am very particular about the softness of my feet," whispers model-cum-Panjab University student Karishma. "So I immerse them in a basin of hot water after adding hydrogen-peroxide and shampoo to it. I then scrub and cream my feet before applying nail polish". But what about her locks tumbling down her translucent shoulders? "Oh! My tresses dry up easily, so every weekend I oil my hair before wrapping up my head in warm wet towel for about 10 to 15 minutes," she asserts.
Freshers welcomed amid fanfare
Chandigarh, October 1
Songs, dances, skits and a debate marked the talent search-cum-welcome party for freshers organised at the Raja Ram Mohan Roy Institute of Vocational Studies, Sector 27, here today.
Charkha, poetry contests held
Chandigarh, October 1
Charkha and poetry-writing contests were organised by the Charkha Club of Dev Samaj College of Education, Sector 36, here today. The function was organised to revive the values and traditions propounded by Mahatma Gandhi on the eve of his birth anniversary.
Stress on improving nano-technology R&D
Chandigarh, October 1
As many as 200 scientists, researchers, engineers and policy makers here today recommended to India to concentrate on nanoelectronics which includes quantum devices, molecular devices based on polymers and biomolecules as DNA, self assembly phenomenon for synthesizing new materials and targeted drug delivery.


HIGH COURT
Last come, first go ruling in contract case
Chandigarh, October 1
"Last come, first go" is the principle to be observed while dispensing with the services of a JBT teacher appointed on contract basis, a Division Bench of the Punjab and Haryana High Court has ruled in a significant judgement.
DSP told to check security threat

Pre-arrest bail for IAS officer

Produce photos in NDPS case

Notice to CBI in arms licence case
CONSUMER COURTS
Travel agency told to pay relief
Chandigarh, October 1
The District Consumer Disputes Redressal Forum-II has directed Grand Travel Planners Private Limited (GTPPL), Sector-17 and British Airways, Indira Gandhi International Airport, Gurgaon Road, New Delhi, to pay a compensation of Rs 60, 000 to a city resident for deficiency in services.
Ex-minister gets bail
Panchkula, October 1
A former Haryana minister Mr Dharamvir Yadav, who had been declared a proclaimed offender in a corruption case, was today granted bail by Mr S. K. Kapoor, Additional Sessions Judge.
DISTRICT COURTS
Bail plea of suspect in rape case dismissed
Chandigarh, October 1
The UT Additional and Sessions Judge, Mr Balbir Singh, today dismissed a bail plea moved by a suspect, Ram Lal, in the rape of Shimla-based girl. The suspect Ram Lal had stated in his plea that there was no allegation levelled against him by the victim.
Bail for accused in MLA murder case
Chandigarh, October 1
Nearly six years after Kharar's former MLA Bachittar Singh succumbed to his injuries after being attacked on his return journey from a rally in Ludhiana, Justice R.L. Anand and Justice Viney Mittal of the Punjab and Haryana High Court today granted bail to Inderpreet Singh by suspending his sentence during the pendency of the appeal. He, along with other accused, was convicted by Chandigarh's Additional District and Sessions Judge
Resolution challenged

Suspension stayed