Sunday, October 6, 2002, Chandigarh, India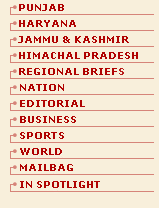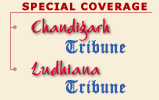 E D I T O R I A L P A G E
| | | |
| --- | --- | --- |
| | PERSPECTIVE | |
SPECIAL FOCUS: MANAGING WATER RESOURCES
Disputes over sharing of inter-state river waters
Towards cooperation and conflict resolution
Ramaswamy R. Iyer
MOST of our major rivers are 'inter-State', i.e., they flow through more than one State. There has been a history of both cooperation and conflict in relation to the waters of inter-State rivers.

Why rob Peter to pay Paul?
G.S. Dhillon
THE oft-repeated demand that our water resources be nationalised and distributed according to the demands of the different areas, need to be considered in tune with the approved Water Policy Document of 1987.

Raising living standards
Nirmal Sandhu
IN large parts of the country unhindered rainwater not only goes waste (80 per cent of it is lost in 75 days of the monsoon rain), but also causes top soil erosion leading to reduced land fertility and lower production.
Evening OPDs: reality check
October 5, 2002
Questions over disinvestment
October 4, 2002
Bullet losing against ballot
October 3, 2002
A national tragedy
October 2, 2002
Web of terrorism
October 1, 2002
IPS officer in police net
September 30, 2002
Wages of Modi govt's apathy towards intelligence
September 29, 2002
Paddy politics & economics
September 28, 2002
Questionable response system
September 27, 2002
Behind voters' enthusiasm
September 26, 2002