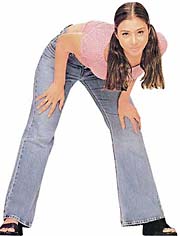 Tabu in Encyclopaedia Britannica
Tabu stands the tallest among all leading heroines of Bollywood today. Besides figuring in the wish list of every director who wants to make meaningful films, the lady has just been listed in Encyclopaedia Britannica for her contribution to Hindi cinema. That industry stalwarts like Raj Kapoor, Dilip Kumar, Lata Mangeshkar and Amitabh Bachchan are included in the list is natural. But Tabu sharing space with the biggies is a big compliment for the young gal.
It definitely must mean a lot to the two-time National Award winner, who has grown up admiring her aunt Shabana Azmi.
Manisha packs up

The Ek Chhoti Si Love Story controversy seems to have taken a heavy toll on Manisha Koirala.
After rubbing people the wrong way and being rubbed the wrong way herself, Manisha has decided to pack her bags and move to — hold your breath — London. What about her production house then? Well, Manisha is moving lock, stock and production house.
More so, since heart-throb Cecil Anthony is based in London. According to a close friend of Manisha, Cecil is not too happy with Manisha doing films, though he was at her side for each and every court hearing during the controversy.
Hopefully, marriage should put an end to all of Manisha's controversies.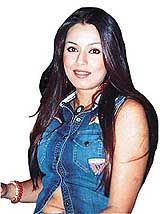 Oh Jesus! It's Mahima
Stars love to keep the media guessing. More so, when it comes to their personal lives. And, Mahima Chowdhary is no exception.
She had admitted in a recent interview that though tennis star Leander Paes and she had been going steady, there were no plans to tie the knot too soon. At least for five more years.
But, what has caught the media's fancy is a big pendant of Jesus Christ that Mahima has been sporting these days. Therein lies a story. The Christian influence definitely comes from a certain Paes. Need we say more?
Akshay turns spiritual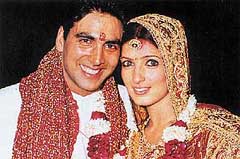 Akshay Kumar is a content man these days. With his career and personal life on an all-time high, he couldn't have asked for more.
While he is doing films with Mani Shankar (of 16 December fame) and Raj Kanwar, besides Kutumb with Amitabh and Abhishek Bachchan, the birth of son Aarav has completed the family circle.
Now, Akshay wants to learn meditation. And for that, he is heading towards China. But, since he has professional commitments, the spiritual trip has been postponed to early next year.
That's what we call a complete man — from khiladi, to family to spirituality!
Namrata's English nightmare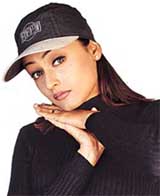 She has all the ingredients that go into making a pretty actress. Namrata Shirodkar has it all, but the accent. At a time when most stars are equipped with a foreign degree, Namrata's Marathi medium background is a sure dampner.
And probably that's the reason she is not any longer a part of Mahesh Manjrekar's much-talked about English version of Astitva. Two years back, when Astitva did wonders for Manjrekar, he decided to script it for an international audience. With Sushmita Sen being roped in to play the lead, Namrata was sure she was a part of the Anglicised version. But according to the latest report, she is not there any more because she can't speak English 'the way the British do'.
Juhi Chawla's comeback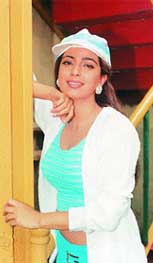 Not in the news for a long time, Juhi Chawla seems to be doing a tight rope, managing her husband, daughter, production house and an ebbing career.
But, the chirpy Chawla, now Mehta, is all set for a come back with Teen Deewaarein. Directed by none other than whizkid Nagesh Kukunoor, the film revolves around three characters and their attempts to escape from the jail.
Shot in Kukunoor's hometown Hyderabad, the film has Juhi playing a documentary filmmaker trying to make a film on the lives of three inmates. Sharing the screen with Juhi will be Naseeruddin Shah, Jackie Shroff and Kukunoor himself.
Scheduled for a November release, the film might just revive the Juhi magic.
Raveena turns storyteller
Ravishing Raveena Tandon is known as the mast girl. But, what many don't know is that this girl with stunning looks and acting talent, also has a heart of gold.
Besides having adopted two orphaned girls, Raveena is also attached to a lot of charity organisations. Recently, the actress took up a new role. But, this time round, it was not filmi. She turned a storyteller for children at a function organised by Child Relief and You (Cry), a voluntary organisation.
Raveena read out the story of Cindrella and picked up children to play the different characters. Needless to say, with all the prodding that they got from Raveena auntie, the kids did a wonderful job!
If more actresses would follow in Raveena's noble footsteps, the world would be a much better place.
— Leisure Media News