Karisma(tic)?
Amitabh Bachchan and Madhuri Dixit have shown the way. Now Karisma is ready to follow and is proving once again that stars whose appeal is fading find television a very charismatic medium.
The actress has reportedly been lured to the small screen by none other than the cash-flushed Sahara Television for a daily soap going on-air in the beginning of November.
The yet untitled marathon series is being directed by Anurag Bansal with Karisma in a double role. Having all the trappings of a big Bollywood blockbusters, it has a plethora of supporting cast comprising mainly of stras who haven't been able to impact movie audiences.
The long line-up includes Sanjay Kapoor, Arbaaz Khan, Arshad Warsi, Sharad Kapoor, Jugal Hansraj, Sheeba, Apoorva Agnihotri, Salil Ankola and Parmeet Sethi.
Producer Akash Deep is confident the soap will put Karisma back on top of the star pile. One just hopes that it doesn't put her on top of the flop star pile the way Sony's Kahin Na Kahin Koi Hai is doing to Madhuri.
The slip's showing
When she started out, the small screen beckoned her with open arms. And she responded with enthusiasm in shows like Kya Scene Hai, Jaane Bhi Do Paaro and Nehle Pe Dehla.
In fact, such was her appeal that when she began hosting Archana Talkie and later Uncensored, many said she was far more savvy than Shekhar Suman in Movers & Shakers.
But somewhere down the road, Archana Puran Singh has lost out. Most of her fans are wondering why she is doing a show like Khelo Number Khelo, every Thursday at 10.30 p.m. on Zee TV. The show which creates a link with the online draw of the Sikkim Superlotto has reduced her to a high-pitched, shrieking anchor.
The one big attraction of Khelo Number Khelo is that it titillates the gambling instincts of viewers and the lure of big money obfuscates the poorly conceived show.
Time was, not too long ago, when it was a delight to watch Archana and her trademark sense of humour. Given her talent, it is a pity that she has had to do a show which is doing very little for her self-confidence.
Eye-popper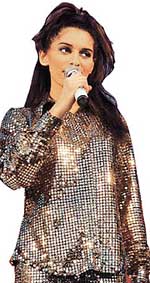 Sophiya: Sizzling dances
A decade ago, she set the trend for Asian veejays on music channels. "It was a great experience. I didn't want to be anywhere else except on Channel V," says Sophiya Haque, who was already an established pop star before becoming a veejay. Her songs, Kamasutra and One Night In My Life had zoomed up the western charts in the early nineties.
Now 30, Sophiya has once again entered the world of singing — lip synching to be exact. She's done cameos in Sunhil Sippy's Snip, Andrew Lloyd Webber's Bombay Dreams and a new psychological thriller, Sandhya where she dances to the beat of a voluptuous number, Maar Gayo Re.
Films have always been a priority with Sophiya after she quit veejaying. Last year, she was seen with Nikhil Chinappa in Snip. Before that she'd been short-listed by Mira Nair for Mississippi Masala but she lost out to Sarita Chowdhary. A second offer came for Gautam Buddha where she was to play Buddha's wife. The film was scrapped.
But now she's determined to hit it big even if it means just shaking a leg or two. After all, Malaika has made a fortune doing just that!
Funny news
This half-hour comedy showcases how seriously foreign channels are viewing TV news in India. The Daily Show with Jon Stewart every Saturday and Sunday at 9 p.m. on CNN will present the award-winning weekend edition of one of the channel's most popular news-based comic shows.
Jon Stewart's smart wit, satire and commentary on current affairs reaches out to over 160 million households around the world. The half-hour show which is recorded weekly before a live studio audience in New York features satirical reports and high-profile celebrity interviews from the world of television, film, media and politics.
"Stewart's sharp commentary and observations illustrate America's ability to find humour in its own customs, newsmakers and leaders," says CNN International Executive Vice-President and General Manager, Rena Golden. "Jon's quick wit, intelligent parody and sharp social commentary will appeal to late-night weekend viewers."
The show will complement CNN International's weekend line-up of feature programmes including The Music Room, Design 260, Inside Sailing, Talk Asia, Inside Asia and People in the News. All of which, according to reports, indicates that CNN is testing the waters before making a full-scale entry in India.
Night of long shadows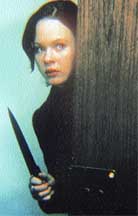 Night Visions: Wait until dark!
Spook yourselves silly with Night Visions every Sunday 7.30 p.m. on HBO. The series creeps from horror to psychological drama to supernatural to paranormal, never letting up until the final bizarre twist in the plot.
This hour-long, 13 episodic drama features two storylines per episode. Each story is a stand-alone vignette and lingers in the memory, long after the final credits roll. The series leads off with the star power of actors like Bridget Fonda, Lou Diamond Phillips, Stephen Baldwin and Jerry O'Connell amongst others.
Catch the first cut of the series in episode one of September 29 in The Bokor in which a group of medical students experiment on a spooky cadaver but things go out of hand as their experiments lead them to get involved with a deadly voodoo curse.
The second story titled The Passenger List features a plane-crash investigator, who is on a doomed flight but cannot warn others of the hairline fractures in the ceiling of the plane which only he can see.
— Mukesh Khosla