BSNL's late entry makes present players happy
Manoj Kumar
PRIVATE telecom operators are once again happy over the delay in the launch of BSNL's cellular services. Spice and Bharti telecom have doubled their efforts over the past few days to capture the exponentially growing market of cellular services in Punjab and Chandigarh. They want to capture a sizeable chunk of the market before the entry of telecom giants — BSNL and Reliance.




Cellphones not just rich man's toys
Peeyush Agnihotri
MORE than 55 per cent of cellphones sold in India are being purchased by lower to middle income groups, says Alcatel, a French telecom major. Mohit Kapoor, country manager, of the company, points out that at present there are 20 to 25 per cent purchasers in A- segment, 35 to 40 per cent in A+ segment, 15 to 20 per cent in B/B+ segment, 5 to 10 per cent in C segment and more than 5 per cent in D segment.

Farming questions, Web-based solutions
Frederick Noronha
AN Internet-based network has launched a program to link farmers across India, allowing them to squeeze out a rich harvest by applying technology to agriculture. The network, using humble tools like e-mail and electronic mailing lists, has created linkages between agricultural professionals and helped them find buyers for their produce or access information on exotic crops and fruits.

Officers get PC loans as employees go without salary
Imran Khan
AFTER free laptops for legislators, Bihar will now give easy loans for buying computers to its government officers in what is seen here as an attempt to promote its IT friendliness. The cash-starved Bihar government has allocated Rs.5 million in the current financial year to give loans to its officers for buying computers.

MP3 evolves to Ogg Vorbis
Vipul Mahajan
MP3 has revolutionised digital music. It offers near CD quality at a small size. But very few know about its real purpose. MP3 was actually developed by Farunhoffer as a larger digital video and audio broadcasting program and was never intended to be used for everyday music. Nobody could ever have imagined the magnitude of its success.


Internet on television
Mahesh Paramjit Kumar
THE wind of convergence is blowing. Today, the latest convergence happening in the area of the Internet is its combination with TV. With the integration of TV and the buying and other similar services are to become available to TV viewer in home.

Intelligent PCs tiptoe
Pratibha Sharma
ARTIFICIAL Intelligent (AI) is a relatively new field. AI began in the earnest with the emergence of modern computer during the 40s and 50s. It was the ability of these new electronic machines to store large amounts of information and process it at a high speed that gave the researchers the vision of building systems that could emulate some human abilities. It is a field of study that seeks to explain and emulate intelligent behaviour in terms of computational processes.

IT WIT
by Sandeep Joshi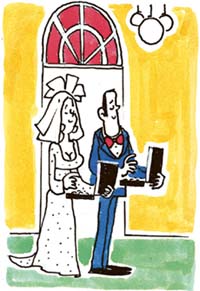 Press enter to say "I do"
An old flame cyber-walks into your life...and ruins it
Polly vernon
TWO months ago, via the medium of friendsreunited.com, I got e-mail from the man who completely monopolised my life for 18 long months in the late eighties. One brief torrid affair, an introduction to the work of The Smiths, a couple of angst-addled love letters and I was consumed in that desperate, immense way you really only can be when you're 17.

Same size that fits all
World Standards Day falls on October 14
Sukhpreet
ALL ATM cards are same in size and functionally too hence can be used at the authorised ATM machine! Any monitor can be linked to any kind of CPU through a common cord, the cord having the same D-type connectors! All motherboards can accommodate standard RAM. That sounds pretty obvious nowadays. However, all that has gone to make such things possible is as a result of many years of concerted efforts of experts worldwide.

Afghanistan logs on
BLASTED back into an almost medieval state by years of war and the repressive rule of the Taliban regime, Afghanistan this month takes a great leap forward, logging on at last to the Internet revolution. Previously, the war-ravaged country's only connections to the World Wide Web have been via prohibitively expensive satellite links or through one tiny, crowded internet cafe in the basement of Kabul's largest hotel.

IN GRAPHIC: WEALTH CREATION BY IT INDUSTRY
MARKET CAPITALISATION