Monday, October 7, 2002
Feature
Farming questions, Web-based solutions
Frederick Noronha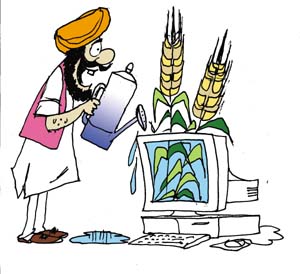 AN Internet-based network has launched a program to link farmers across India, allowing them to squeeze out a rich harvest by applying technology to agriculture.
The network, using humble tools like e-mail and electronic mailing lists, has created linkages between agricultural professionals and helped them find buyers for their produce or access information on exotic crops and fruits.
The Indian Society of Agricultural Professionals has bigger plans.
It aims to reach out to at least 1,00,000 agribusiness professionals during the next five years and provide answers to questions like — Can olives be grown in India? Or is there a market for grafts from Maharashtra in remote Assam?
Shripad Kanekar from Banda in coastal Maharashtra approached the society when a farmers' group, that he is part of, wanted to sell 20 tonnes of seedless dried kokum, a tamarind-like fruit usually used to flavour curries.
N.N. Bhuiya of Assam Plants and Machineries wanted cashew nut grafting material to distribute on a large scale in his northeastern state. Through the society he got a tip from a person in Goa on whom to contact.
Shree Padre from Kerala, a farmer-journalist and founder of water forum,
"Jalakoota", announced the launch of his book on rainwater harvesting via the society network while Ashish Kotamkar from Pune drew attention to a Website—agmarknet.nic.in—aimed at helping farmers bargain better.
Besides helping in forging such linkages, the society puts news of interest to farmers and agribusiness professionals on its mailing list run at www.yahoogroups.com.
Farmers in Karnataka switched over to non-chemical, organic farming after an NGO, Krishi Prayog Parivar, highlighted the benefits of such an approach on the society news group.
The society was set up as a not-for-profit company with the goal of enhancing rural incomes by boosting access to "appropriate agricultural technologies and market intelligence" to millions living in India's hinterlands, its executive director, Sunil Khairnar told IANS.
Khairnar, who specialises in agricultural technology, said he hoped to create a national—or even international—network of food and agribusiness professionals.

Indian agriculture, the society's promoters note, contributes some 25 per cent of the country's economy and 65 per cent of the total employment.
"Therefore, an increase in farm incomes, however modest, will lead to the betterment in the lives of 650 million persons." The society plans to hunt for relevant technology and markets and make sure this information reaches farmers through 'agribusiness clinics' it organises.