Method: Peel, core and dice apples. Combine apples, water and lemon rind in a large saucepan. Simmer, uncovered for 10 minutes. Mixture should be mushy with few chunks of apples left.
Add sugar and allow to melt while simmering on low flame. When sugar melts add cinnamon, nutmeg and lemon juice. Watch closely and stir often to prevent burning. Apple sauce should be thick, not watery. Serve warm or chilled.
Sugar quantity may be increased or decreased depending on the variety of apples used: If apples are very sweet decrease sugar and if sour then increase a little.
Apple pudding
Ingredients
Apples 4
Plain flour 1 cup
Milk powder 1/2 cup
Sugar 1/4 cup
Walnut (chopped roughly) 1/2 cup
Vanilla essence 1/2 tsp.
Baking powder 1 tsp.
Cinnamon powder 2-3 pinches
Salt 3 pinches
Lemon rind grated 1 tsp.
Chilled cream 1 cup
Sugar ground 2 tbsp.
Method: Sieve together flour, salt, baking powder, cinnamon powder. In another bowl, make paste (with water) of milk powder, or pour condensed milk. Beat till light and fluffy. Add sugar while beating. Stir in rind, essence, followed by dry ingredients in the mixture.
Peel core and dice apples. Fold in apples and walnuts. Turn into a 9" greased cake mould, bake in pre-heated oven at 180°C for 30 minutes. Skewer should come out clean when done. Serve with whipped cream.
Apple muffins
Ingredients
Apples 2
Raisins 1/2 cup
Plain flour 1 cup
Wheat flour 1 cup
Sugar ground 1 cup
Baking powder 3/4 tsp.
Baking soda 1/2 tsp.
Cinnamon powder 1/4 tsp.
Milk 1 cup
Butter 3/4 cup
Method: Wash raisins, drain, keep aside. Peel and finely chop apples. Sieve dry ingredients together 2-3 times. Melt butter in large pan, take off fire. Add milk, and gently fold in dry ingredients. Add raisins and apples, mix very lightly. Keep mixture a bit lumpy, and do not mix too much (lumpy batter makes better muffins).
Pour spoonfuls of mixture greased in muffin trays, or in small cups.
Bake in preheated oven at 200°C in centre rack for 20 minutes till firm and done.
Apple cake
Ingredients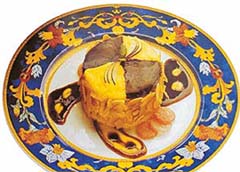 Apples 4
Eggs 2 large
Plain flour 1 1/2 cups
Butter 1 cup
Caster sugar 1 cup
Milk 2 tbsp
Molasses 1 tbsp
Baking powder 1 1/2 tsp
Dry ginger powder 1 tsp
Method: Peel and dice apples. Pre-heat oven to 190°C. Sieve baking powder and flour together thrice. Beat sugar and butter until pale and fluffy. Then beat in the eggs one by one. Add a little flour with the second egg. Beat in the molasses. Fold in the rest of the flour and ginger powder. Add milk if the batter is thick. Fold in half the apples. Spoon half the cake batter into a greased and lined cake tin. Place the remaining apples on the batter and top with the rest of the batter. Cover the tin with a double piece of grease proof paper and bake for 45-50 minutes. Top with whipped cream and chocolate sauce. Decorate with apple slices.
Toffee apple
Ingredients
Apples 4
Flour 2 cups
Water 3 cups
Oil 2 tbsp
Sugar 2 cups
Sesame seeds 1 tbsp
Method: Prepare toffee by heating 1 tbsp oil in a pan add sugar, sesame seeds and 1 cup water and stir on medium heat till the sugar is dissolved. Increase the heat to boil the mixture for 5 minutes or till it becomes light golden. Keep aside.
To make batter: Mix flour with 1 tbsp oil and 2 cups water and stir till smooth. Heat oil. Coat apple pieces with batter and deep fry in hot oil in batches till golden brown.
Dip one piece of fried apples at a time in the toffee. Remove immediately and place in a bowl of iced water. Serve with vanilla ice cream or whipped cream.