Divali cracker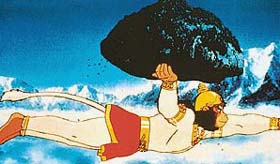 Ramayan-The Legend of Prince Ram: Animated series
It attained heady popularity when it was first aired on DD back in the eighties. In its new Avatar on Zee TV, it may have lost its metropolitan appeal but it still continues to enthrall people in smaller towns. And now, Ramayana is out to woo young viewers.
No, it is neither made by Ramanand Sagar nor B.R. Chopra. This is an animated form of the epic. Ramayan-The Legend of Prince Ram will be shown in half hour slots every Saturday at 4.00 p.m. on the Cartoon Network leading up to Divali. On Divali, the channel will telecast it in its entirety starting 12 noon.
The animated religious classic along with Pandavas-The Five Warriors, is part of a specially packaged programming block for Dasehra and Divali, titled The Great Indian Epics. The block will be telecast in Hindi and English.
An Indo-Japanese collaboration, the series is a fusion of the Manga animation technique of Japan and the artistic style of Ravi Verma, the best known Indian artist.
Shatrughan Sinha, Amrish Puri and Arun Govil have dubbed for the Hindi version while Rahul Bose and Cyrus Broacha for the English one.
So, for those with a religious bent of mind this is a great opportunity as the small screen gets ready to brighten up the festival of lights.
Hoping for a miracle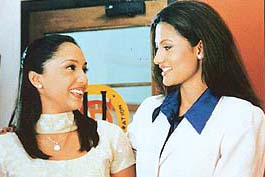 Scene from Lipstick: Romance, betrayal & intrigues
The crack team at Zee TV seems to have gone back into the boardroom to devise a strategy to put the channel back on rails. Nothing seems to be working for the past one year even as most programming has recorded abysmally low TRPs.
The think-tank has now come out with a new plan to liven up things at Zee. And what better strategy than to put up a daily soap and start phasing out weekly shows. The thinking behind the move is apparent ó if they work for Star Plus, theyíll work for Zee.
So in come soaps like Kohi Apna Sa, Kammal and Love Marriage and out go serials like Justajoo. A promising new daily added to the stock is Lipstick airing at 11 p.m.
Produced by the brother-sister duo of Goldie Behl and Shrishti Arya who made the forgettable Abhishek-starrer Bas Itna Sa Khwab Hai and directed by Bhushan Patel (Son-Pari and Parchaiyyan) it has Shweta Salve (Kittie Party) playing the lead.
The story revolves around the lives of two women, Sheetal and Suniti, set in the backdrop of two warring publishing houses. Like all soaps, it is about best friends turning into enemies in the pursuit of love and success.
No doubt, the 11 p.m. soap is absorbing but whether it can single-handedly change the channelís fortunes remains to be seen.
Doctor in trouble
This is as funny as it gets. A gangster. A psychiatrist and a pretty woman. The gangster wants to reform, the psychiatrist is clueless about how to reform him and a woman who is out of control.
That in a nutshell is the script of the Robert De Niro-Billy Crystal starrer, Analyze This on HBO at 9.30 p.m. on October 12. The film repeats on October 22 at the same time.
Robert De Niro is Paul Vitti, a mafia don whose definition of relaxation is pumping bullets into people.
To do this, he turns to an under achieving psychiatrist Ben Sobol (Billy Crystal) with an attractive offer that Sobol just canít refuse ó cure me or Iíll pump you with bullets!
Lisa Kudrow, of the TV serial Friends, co-stars as Sobolís fiancee in this comedy with an edge that will have you laughing from the word go.
Pursuing mysteries
Does Bigfoot really exist? Can people be frozen and brought back to life in the future? How does hypnosis work? These questions and more will be investigated and surprising facts revealed in Discovery Kidsí all-new fun and fast-paced series every Friday 3 p.m.
With two intrepid teenage reporters, Araya and Christina and a skeptical scientist on the case, the team sets out to solve some of the worldís greatest myths and mysteries.
Armed with video cameras and their instincts, they visit the sites and delve into the tales which have baffled people through ages. After gathering facts and meeting experts, Araya and Christina debunk common myths and offer explanations for legends, spooky stories and unexplained phenomenon which have perplexed the world. Combining on-site reporting and exciting adventures, the Mystery Hunters are always in hot pursuit of the truth.
They use critical thinking and scientific fact to explain creepy events and show that things arenít always as they seem. So, learn about vampire, psychic phenomenon and other mysteries that have baffled scientists for ages.
ó Mukesh Khosla