Sunday, October 13, 2002
Lead Article
From strength to Shakti
Asha Singh
KARISMA Kapoor is marrying Abhishek Bachchan. But that's not what people are talking about. It is Shakti, her comeback film after close to a year of exile, which has generated ecstatic responses from her fans and critics alike. The last memorable performance she had given was in Shyam Benegal's award-winning Zubeida.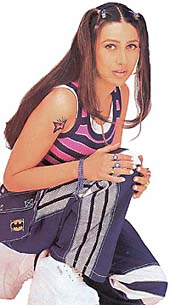 In Shakti, Karisma plays an anguished mother, who, after the murder of her husband, is desperate to return home with her son who's in the clutches of her tyrannical father-in-law. Inspired by the Hollywood hit Not Without My Daughter, the film showcases the actress's histrionics once again, with memorable moments of fire and fury.
Clearly, Karisma has come a long way from her tentative debut in D. Rama Naidu's Prem Qaidi, exactly 10 years ago. Subsequent releases were equally run-of-the-mill — Police Officer, Deedar, Jigar, Jagruti, Nischay and Sapne Sajan Ke —non-starters that did nothing for her career.
Her first comeback was with another Rama Naidu Film, Anari. From then on, the Kapoor girl has been climbing the popularity ratings with chartbusters like Sexy sexy sexy, mujhe log boley (from Khuddar) and Sarkailo khatiya (Raja Babu) consolidating her position as a saleable actress in the box-office.
If these films brought her fame and criticism in equal measure, there was her sacrificing act in Dhanwan (1993) and Andaz (1994) which were highly appreciated. A special appearance in Yeh Dillagi (1994) also got her rave reviews, placing her on par with Bollywood's then reigning queen, Madhuri Dixit.