Oh Christ!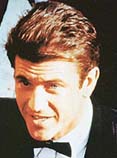 Mel Gibson: New passion

Some predict it is going to be the biggest hit ever putting in shade films like Ben Hur and The Ten Commandments. Critics, however, are cynical about its box office fortunes.
But one man who is going ahead the zeal of a missionary is actor-director Mel Gibson whose new film about Christís last 12 hours, The Passion, is the most ambitious project heís ever undertaken.
The movie will feature two dead languagesó-a dialect of Latin and Jesusís native Aramaic and there will be no subtitles. The star cast is hardly known and Gibson himself is not acting. This is his first directing job since winning multiple Oscars in Braveheart in 1995. Though no Hollywood studio has evinced interest in distributing the film, Gibson is confident things will work out fine.
He confesses, "Most studios think Iím a nut to put out a film in a language no one understands. I think Iím a genius. I want to give viewers a visual experience". The verdict will be out when the film is released early in 2003 ó that is, if he finds a distributor!
Hello Dolly!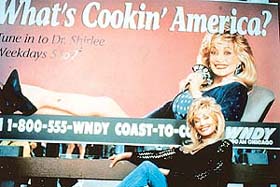 Parton: Breast stroke
What keeps Dolly Parton going strong even at 55? Ask the gutter press about the voluptuous singer-actress of films like 9 to 5 and The Best Little WhorehouseIn Texas, and youíll know. Like all shrewd stars, she believes that any publicity is good publicity.
Some years ago, the tabloids had gone to town, saying that she had undergone an operation for breasts reduction. Later, she screamed that she had had her breasts enhanced with implants. And now comes the news from the same confused newshounds that her implants are leaking and have become life-threatening.
Dolly, of course, laughs it away, saying that she hasít "sprung a leak" though she did have her breasts lifted after an illness. "This thing with me and the tabloids has been going on for years," says Parton. "And it hasnít always been bad. Theyíve kept me going between bad records and great movies. So a little breast-beating is not bad!" Dolly does keep abreast of journalists!
Quit bit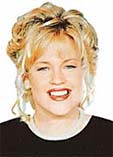 Melanie Griffith: Self-denial
Melanie Griffith gets her kicks in real life by kicking bad habits. She had a drinking problem once but she surprised friends when she announced she had thrown the bottle out of the window.
Next came cigarettes, and her decision to quit could not have come a day too soon, for everyone had thought her lungs had been covered in black. Lately, she has given up on coffee after a doctor warned her that excess caffeine has never been known to do anyone any good. The woman who was almost inseparable from her coffee cup says, "No coffee. Iíve now switched to herbal tea and Iím looking younger than ever before". Would stars like Jennefer Love Hewitt and Jennifer Lopez take a lesson for their senior colleague?
ó Newsmen Features