Sunday, October 13, 2002
Personality of the week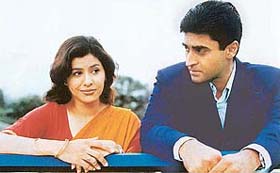 Iravati Harshe in Sanjivani: Three-shift star
SHE'S been an enigma on television. Whether playing Dr Smriti Malhotra in Sanjivani or Rukhsana in Tanha, Iravati Harshe has gone so much into the role that it is difficult to tell whether she's acting or just playing real life.
And with the amount of roles she's doing she can be forgiven if she starts talking like one of the many characters she is playing. That's how much she's into her roles. Which explains why Iravati is right on top of the star ratings doing three shifts a day.
But the lady is quick to remind you that she may be into many projects but she doesn't blindly rush into all the serials she is offered. "There are checks and balances. The script is top priority and then the actors and director I'd be working with," she says.
Which is why she's had a fair share of hits in the last few years. Whether it was Shanti, Mrityudand, Tanha, Warris, Chhota Muh Badi Baat and Kabhi Kabhi or films like Hey Ram and Split Wide Open, Iravati has given it all to her character.
Apart from Sanjivani she is currently doing Zindagi Teri Meri Kahani on Sahara and Achanak-37 Saal Baad on Sony. "There are many more in the pipeline," she tells you with a smile. And why not? It's not always you find stars who don't go hysterical about their success.