Criminal case against Thackeray
Sena threatens govt of dire consequences
Mumbai, October 17
Taking a serious view of Shiv Sena chief Bal Thackeray's call to Hindus for forming suicide squads to combat terrorism, the Maharashtra Government today slapped a criminal case accusing him of promoting communal disharmony, a move described by the saffron party as "politically motivated".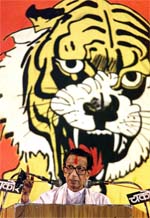 Shiv Sena party leader Bal Thackeray addresses a public rally in Bombay in this picture taken October 15, 2002. Indian police have filed a criminal complaint against the hardline leader who asked Hindus to form suicide squads to fight terrorism, saying his remarks could fan communal tensions, a minister said on Thursday. — Reuters photo
Based on a public speech delivered by the sena chief on Dusehra on Tuesday, the Shivaji Park police station filed a case against Mr Thackeray under Section 153 A of the IPC, a non-bailable offence punishable up to three years in jail or with fine or both, Deputy Chief Minister Chhagan Bhujbal, in charge of Home portfolio, told PTI here.
"A cassette of Mr Thackeray's speech had been forwarded to the Centre because the sena chief had talked about using the Army to deal with terrorists. Since the Army was not a state subject, the matter had been referred to the Centre and now it is for them to act", Mr Bhujbal said.
The police had recorded the speech and would take action as per law, Mr Bhujbal said, adding that after obtaining sanction from the government, the police would prosecute the sena chief.
Since the Democratic Front government came to power in the state, this is the second criminal case against Mr Thackeray for allegedly promoting disharmony between two communities. The first one is still pending as the Mumbai High Court is seized of the matter.
At the Shivaji Park rally, the sena chief had urged Hindus to form suicide squads to tackle cross-border terrorism and suggested that the Army be given in his hands to eliminate terrorists.
As soon as the news about police filing a case against Mr Thackeray spread, party leaders went to sena chief's residence at "Matoshree" in suburban Bandra for a closed-door meeting to deliberate on the issue.
After the meeting, leader of the Opposition Narayan Rane told mediaperson outside "Matoshree" that the government was allegedly harassing Mr Thackeray by filing a case against him. He justified Mr Thackeray's speech saying that there was nothing wrong in what he had said.
"If the government takes action it will have to pay a price for it and the Shiv Sena will launch agitation for the government's failure on several fronts", he added. PTI